By Jase Walker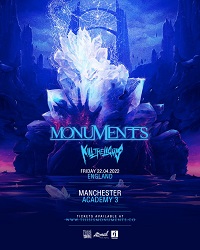 I don't think it's possible to overstate just how much I adore Monuments, straight from their debut of 'Gnosis' right through to their outstanding latest release of 'In Stasis'. Admittedly with a very short notice announcement for their short ÜK run, being able to hear their latest bangers is something that I've got an overwhelming appetite for.
Kill The Lights are due on any minute now and I have to say, the room is sparse, almost everyone here is wearing Monuments shirts so I'd guess this is because people aren't particularly warm to the support? Either way they kick things off and it's LOUD. The "bullet" influences are very much on show right from the start but barring the people on the barrier, the engagement is a bit lacklustre although it doesn't seem to faze the band much.
The room by the halfway point is a bit more populated but the crowd generally doesn't seem to be particularly buzzed. I'm not really feeling this either, it's not really doing much for me and generally I'm a real fan of metalcore. I think on the whole this wasn't a great choice for a support act for a band like Monuments, but I get the feeling that they probably didn't have a choice in this matter.
The stage tech shines his stage call, the lights darken and the crowd screams, it's time for Monuments! Their first show in two years and I am here for it, opening with 'Cardinal Red' and the audience is an explosion of movement! Absolutely lost in the sound of the song, Andy sounds massive, there's pints on the ceiling and everything's just gone mad!
Time to lose my shit to 'Origin Of Escape'! An 'Amanuensis' anthem, admittedly I'm kind of hoping for 'Atlas' but I'll absolutely take it and at this point I'm genuinely caught between taking notes and getting my head kicked in the pit. The moment 'Degenerate' starts though I'm right in there! No way I'm going to miss a chance to get back in the pit for that, but following up with 'Regenerate'? Banger. I'm legitimately finding it hard to balance taking notes and screaming my lungs out by this stage and I am *damp*.
Taking things back to In Stasis, we're treated to 'False Providence', the mix of songs so far has been solid and the crowds clearly down for the newer stuff too! Honestly, I can't help myself being in the pit almost every song now, 'Leviathan' spurs me on, these ageing bones may be giving me some trouble but I'm not wasting this chance.
God I've been waiting for 'Atlas' the whole set so far by now, sadly the pit was a bit quiet for it but oh well, I had fun? I want to remark on every single little bump in the road here but going in with the lead single from the latest album, 'Makeshift Harmony' gets the crowd going wild, I'm absolutely dripping wet by this point so maybe I should take a breather from the pit.
This show has probably been the best Monuments show I've ever seen so far, finishing with 'I, The Creator', they've clearly been chomping at the bit to play live again and it's evident with the sheer amount of force they've played with tonight. The lineup changes have done them for the better and with the new tracks from In Stasis in their roster, this has been a show to behold.
Thanks guys, this has been special.
The tour continues: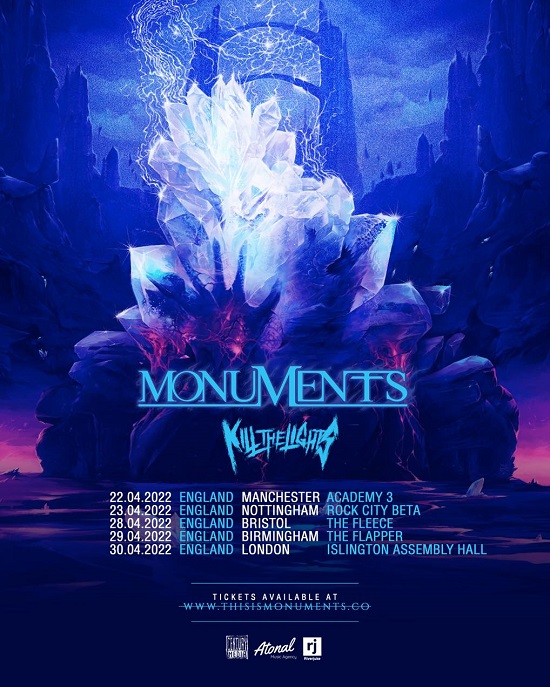 All content © Über Rock. Not to be reproduced in part or in whole without the express written permission of Über Rock.