Having been a fan of blues guitar music since I first heard Albatross and Layla almost a lifetime ago I have found myself listening to the major protagonists of the style throughout the last 50 years. From the first two mentioned to Carlos Santana, Gary Moore, Pat McManus, and the latest new kids on the block, such as Chris Buck and Joanne Shaw Taylor.  Whilst many of these have left indelible emotions on my psyche, the one that has touched me the most is the collaboration of Glenn Hughes and Joe Bonamassa on 'Black Country Communion IV', with 'The Last Song For My Resting Place'. As you get older and lose those close to you, you become more aware of your own mortality, and songs like that resonate more clearly.
He also had a great collaboration on 'Seesaw' with the sensational blues vocalist Beth Hart whose album 'War In My Mind' was my album of the year in 2019. Check out 'I Love You More Than You'll Ever Know', 'Strange Fruit' (both from 'Seesaw') or 'I'd Rather Go blind (from 'Don't Explain') if you haven't already done so.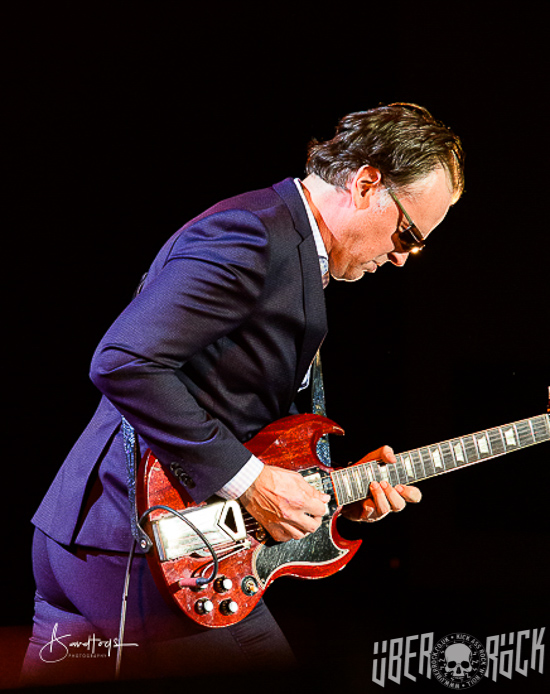 As a result, the option to see Joe has been one that I have been trying to do for several years now – until tonight.  This was an opportunity that almost passed me by again: a photographer friend was looking for someone to cover it for his usual internet review site, but after I offered, they decided to cover the Albert Hall gigs instead, so I asked Monk if he was interested – and, despite himself not being a fan of the man he calls 'Bonawanka', he got me the gig, so to speak.  Without this series of coincidences, I probably would have missed it again.
No support act makes an interesting difference and also gives such an accomplished artist as Joe the chance to demonstrate his art in a significant set.  With 15 albums to cover, there are always going to be losers and crowd members are always going to say "Why didn't he play X or Y?" Well you can't get at least 15 hours of music into two hours unless you play two minutes of each track – now that's an idea…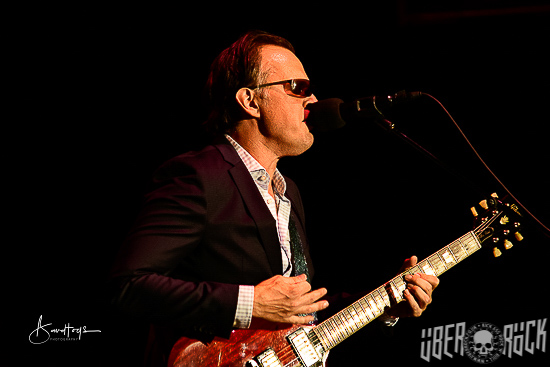 Anyhow, this is a five-city tour as part of the wider European tour that has been planned (and stopped) for three years. Night two landed in Cardiff after a trip north of the border to Glasgow. I'd recommend that any band start a tour with the Celts, as you will be guaranteed a warm reception in both cities.   Then a gig on the south coast in Brighton and two gigs in the Royal Albert Hall.
As well has his impeccable handling of the guitar, I like his voice too, as do his legions of fans, I'm sure.  So, we can only wait to see what a decent scotch has done for his tone (on that note don't forget to try the Welsh version of said spirit if you get chance Joe!)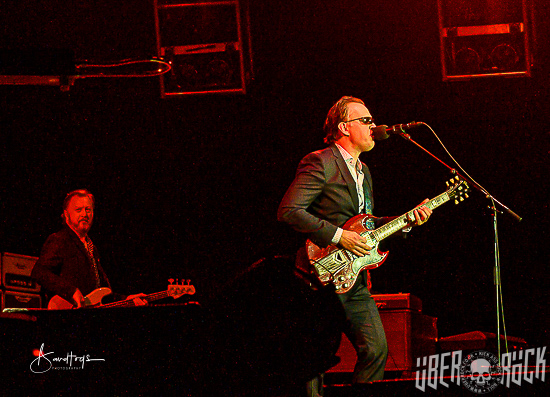 After entering to 'Welcome Back' from the American comedy 'Welcome Back Kotter', in a slate grey three piece and regulation Bonamassa dark glasses, he quickly rattled into 'Evil Mama' on a cherry red Gibson SG accompanied with the opening drum solo start from the album 'Redemption'.  Taking photographs and trying to write reviews usually leaves the coverage of first three tracks of any set being a bit thin.  However, a quick turnaround to 'Dust Bowl; from the 2011 album the same name just gives an indication of what is to come.  A wide variety of the full range of the career of Joey B!
'Love Ain't A Love Song' from the 2014 album 'Different Shade Of Blue' was the final of the three photography tracks before a stunning cover of 'Midnight Blues', the Gary Moore track accompanied by some brilliant backing vocals by Jade Macrae. As with all guitarists there are multiple changes from the signature gold top Gibson Les Paul to a very road worn blonde Fender telecaster on 'The Heart That Never Waits'. Both backing vocalists provided a great counterpoint harmony to JB's voice on this track from the latest album, 'Time Clocks'.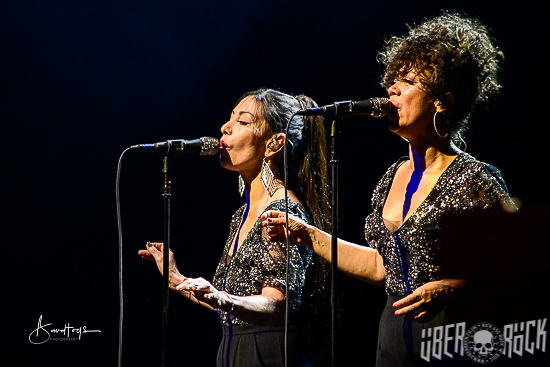 'I Didn't Think She Would Do It' meant back to the gold top Les Paul.  The two backing singers didn't stop throughout the night. Damned good workout ladies and there was good harmonic guitar from Joe and Josh Smith, with Reece Wynan giving his keys a serious workout. 'Just Cos You Can Don't Mean You Should', from 'Redemption', slowed things down to give the ladies a warm down. It also gave Joe a chance to demonstrate the range and power in his voice and guitar dive bombs in the breakdown.
'Pain And Sorrow', from the 2002 album 'So It's Like That', was a 10 minute epic with the switch to a sunburst Stratocaster, which gave the emotion of a crying whine to the track during the intro and gave the ladies a chance to get a break before the vocals kicked on. The bass of Steve MacKaye boomed through the track. Rapid-fire upper end soloing is accompanied by constant facial expressions emulating the finger movements. The intricate solo is again followed by a brief keyboard interlude and the banging booming outro.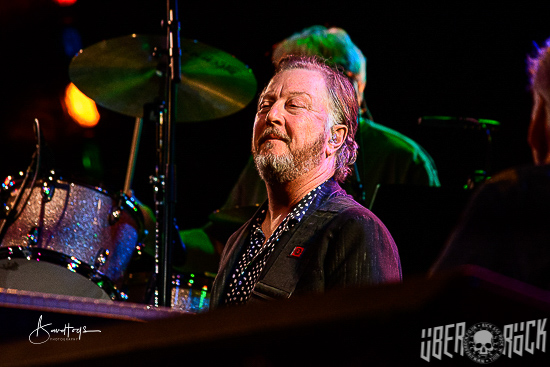 At this point, his first crowd interaction, delineating his dietary intake of the Welsh culture of Wagamama's, Costa coffee Nando's, and obligatory band introductions, gave some light relief to the audience and raised a few smiles among the band too.
'A Conversation With Alice' gives Reece Wynans a chance to wind up his Hammond organ to full power: I love the sound of a Hammond organ when it's well played, and there is no one better than Reece Wynans on this organ solo. It is also accompanied by a very accomplished Guitar solo by Josh Smith. 'Lonely Boy' involved another guitar swap back to blonde telecaster for the toe tapping track and another Reece Wynan piano solo this time as well as another Josh Smith guitar solo.
'Ballad of John Henry' is about as deep blue south as it could be; booming bass lines carry the track underneath the vocals, before the vocals of Jade Macrae added an Eastern/Arabian Nights feel to the booming breakdown and solo and the theramin solo including guitar neck playing!
At this point comes the obligatory "leave the stage before the encore", which is ten minutes of 'Woke Up Dreaming'.
Whilst there is no doubting his expertise on the electric instrument, I have to say the acoustic guitar is a thing of beauty when handled by a maestro. I have always had a soft spot for it ever since my 15-year-old son played 'John Butlers Ocean' for the first time and his own arrangement of 'Nothing Else Matters' at my niece's wedding. This track is something else. My highlight of the evening by a country mile! There was a little bit of banter before introducing final track 'Sloe Gin': what a way to end a show.