By Rich Hobson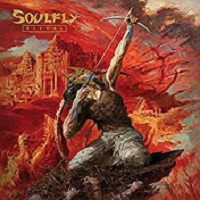 The idea of a latter-day critical resurgence is a rock trope that doesn't look to be dying any time soon. No matter how many old guard bands pump out consistently solid material, no matter how many manage to exist in a perpetual state of cult acclaim, it seems the options for older, established bands are limited. Option A: go through the rigmarole of changing yourselves completely, running the risk of alienating original fans, irking critics and damaging your credibility. Option B: Continue doing what you do, falling so far from relevance that when the tides of music inevitably roll around again the same sound that put you on top in the first place is enough to put you right back at the top of the pile again.
Soulfly clearly went for option B. But then – if it worked for Motorhead, for ACDC, for Slayer and most recently for Judas Priest, why the hell wouldn't you? Soulfly's steadfast dedication towards their very own brand of primal, aggressive thrash/groove metal crossover has been enough to spawn thousands of imitators over the years, but so very few bands are able to match the intensity of the Brazilian behemoths themselves when they are at the top of their game. Not one's to get caught up in chasing metal's dalliances with other genres and styles and emergent trends, 'Ritual' is a Soulfly album for Soulfly fans, pure and simple.
From the religious tones that signal opener 'Ritual' through to each and every pummelling riff and breakdown, Soulfly aren't holding anything back on album 11. Perhaps imbibed somewhat by the renewed vigour in his side-project Cavalera Conspiracy, Max Cavalera returns to Soulfly as a man possessed of a singular purpose; to get crowds moving at any fucking cost. With over 30 years in this role, Cavalera has honed the methodology down to a zen-like art; the vocals are recognisable from a mile off, but good goddamn is it hard to not roar along once the form of each song has been made apparent.
It would be a crass oversimplification to say that Soulfly have gone back to basics with Ritual, especially when the band haven't ever diluted what they do. But there is an inherent sense that the fire and fury of this record is closer in energy to Soulfly's earliest releases than to their last few records, particularly in just how thrashy the record wants to go. Riff after riff after motherfuckin' riff flies out the speaker as we go from 'Dead Behind The Eyes' to 'The Summoning' and beyond. At the heart of all this riffing is a thrash-like sense of steadfast dedication to powering the song as far as it can possibly go.
Guest vocals from Lamb of God's Randy Blythe add extra flavour to 'Dead Behind The Eyes', and Immolation's Ross Dolan is afforded a whole section of 'Under Rapture' to take a headlong dive into death metal territories. But for these side-dishes, 'Ritual' maintains Soulfly's ability to do what they do to a standard few others can match. Whether it's the imperious beatdown drumming, the wild guitarwork which veers on glam ostentation over pure thrash mania or the occasional forays into primal world-music beats, this is what Soulfly have made a name for themselves doing for over 20 years.
Empowering, aggressive and absolutely rammed with festival floor-fillers, 'Ritual' is Soulfly at their absolute best, offering no quarter and insisting on all-out warfare the whole way. Whether you want the straight-up thrash power of 'Evil Empowered' or prefer the almost Motorhead rock n roll vibes of 'Feedback!', there is a subset of Soulfly's style to suit all tastes here, a constant build of energy and emotion. Closer 'Soulfly XI' will likely blindside most (think Latin American jazz and you're on the right lines), but for the most part 'Ritual' is exactly the kind of Soulfly record fans will want, and one that proves they still have plenty to offer to a world which at times seems overly preoccupied with trying to find the hottest new gimmick.
'Ritual' is released on Friday (19 October).
www.facebook.com/SoulflyOfficial/
All content © Über Not to be reproduced in part or in whole without the express written permission of Über Rock.