By Dom Daley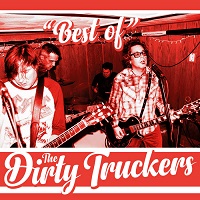 Don't ever feel down in the dumps, folks, because you're never alone with rock 'n' roll in your heart and with the stereo on LOUD! There can't be anything sweeter than a band just kicking up a shitstorm of rock and roll music with strong hooks and melodies and a whole lot of energy and attitude that all adds up to a damn good time.
Hey, ladies and gentlemen, might I introduce to you The Dirty Truckers and their brand new album 'The Best Of…'? Yup, in times of austerity we all need the feel good that oozes from 22 tracks of good time rock and roll that pour out of every pore and fibre of the Dirty Truckers. Culled from their 2001 debut right up to the present, this is a band you absolutely need to hear.
These cats are batting for the same team as The Georgia Satellites. There's some Replacements in there too, for sure – and a whole bunch of good time rock and rollers who, like these guys, view life from a beer bottle and a good time. There's romantic lyrics aplenty, whether they're singing about broken hearts, a party, life, love and everything in between.
There's nothing complicated here folks – it's not Muse or Radiohead: it's power poppin' rock 'n' roll done to the very highest standards one would expect from a band getting released on Rum Bar Records. From the opener 'Like Him' through the foot stomping delight that is 'Crosscutting Concerns', this Bostonian outfit certainly know what it takes to pen a great track – bristling with energy and a glow of warmth that can only be had from genuine heartfelt rock 'n' roll. These guys are on fire, never mind glowing.  Whether it's the upbeat rockers like 'All She Ever Wanted' or the riff 'n' roll of 'Heavy Metal Weekend', or the more laid back 'All Wrapped Up' and 'Just Run Away', the radio-friendly 'Not That Into You' or 'Simple As That', The Dirty Truckers have got a tonne of great songs, and somehow 22 doesn't seem to be enough.
What a fantastic selection, and strength in numbers, no question about it. Finishing up on the one-two tag team of 'Been Around' and 'Stranger In Disguise', will leave you wanting more, rounding off this album with a real sense of strength.
Tom Baker and the boys have got it going on and the more I hear the more I like. Go get yerself some Dirty Truckers, all you naughty boys and girls… it's not a request: it's an order!
'The Best Of The Dirty Truckers' is out now. You can get your copy HERE.
www.facebook.com/TheDirtyTruckers
All content © Über Rock. Not to be reproduced in part or in whole without the express written permission of Über Rock.