By DJ Monk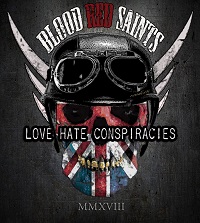 I first came across Blood Red Saints at one of the HRH AOR fests a few years back and, despite not being familiar with the band beforehand, was immediately smitten by their highly polished brand of melodic rock. Our paths have crossed a few times since – most recently at last October's Rockingham fest, when singer Pete Godfrey briefly joined Bailey on stage. At those few meetings, I have found the frontman to be one of the most affable, and funniest, fellas in this dirty ol' rock 'n' roll game, always smiling and ready to talk to fans (even in the wee small hours of the morning). One thing that has been missing in this period has been new material from BRS… a situation now rectified with this release.
And, boy, has it been worth the wait, as this little shiny disc of 11 tracks has hardly been off the deathdecks in my mancave since it first plopped onto them at the tail end of last year. Re-invigorated with a new line-up – former Shy guitarist Neil Hibbs and drummer Andy Chemney having joined the latter's former Angels Or Kings bandmate Rob Naylor, Godfrey and guitarist Lee Revill – the first thing that you notice about 'Love Hate Conspiracies' is that it is slightly heavier than its predecessor, 2015's debut 'Speedway' (which they were promoting at that fateful HRH AOR bash). Having said that, they haven't gone all heavy metal on us, as the emphasis is still very much on melody, albeit backed with a punchiness powerful enough to floor a heavyweight champion in the first round.
'LHC' is very much rooted in the AOR/hard rock sensibilities of the late Eighties/early Nineties, with heavy references to likes of Def Leppard – the likes of 'Wake Up' and 'Something In Your Kiss' could easily be outtakes from the 'Hysteria' sessions, rejected by the band at the time and then dusted down three decades later and given to a bunch of musicians who still have that all-important fire in their bellies – Autograph and Bon Jovi (just listen to the 'woah woah hey hey' refrains on album closer 'Turn On The Night' and you'll hear what I mean). But, at the same time, it is a very modern sounding album, fresh and relevant and proving, once again, that some of the best melodic rock is coming out of this very Über Kingdom or R'n'R at the moment.
Opener 'Another Freak' rumbles out of the speakers with an almost lascivious intent, built on a big, thick rhythm and a crunching guitar riff that immediately grabs you in the nether regions and jiggles them provocatively, causing you to tap your feet and nod your head almost uncontrollably – and, before you know (and not for the last time), you're singing along to the catchy-as-fuck chorus. 'Live & Die' changes the mood slightly, despite opening with another big-ass guitar riff that rips and tears; however, it eases back off the pedal slightly, allowing Godfrey to really showcase his voice, and particularly his range, for the first time. And there's just enough of a sleazy undertone, especially in the verses, to counterpart the cleanliness of the harmony to show that these guys aren't afraid to mess up (what is left of) their hair.
The aforementioned, Leppard-esque 'Wake Up' is another crunching hard rocker, which kicks off with a magnificent gang vocal, before 'Exit Wounds' changes the mood again, with the first ballad of the album, featuring another superb performance from Godfrey, underpinned by a suitably restrained yet edgy background counterpointing from the four other musicians. 'Something In Your Kiss' is very much a 21st Century re-interpretation of da Lepps, from the 'Animal' vibe of the riff through Godfrey showing Mr Elliott how to deliver a convincing snarl.
The album swivels on the magnificent title track, with it's Jovi-esque spoken intro and almost electro vibe to Chemney's percussive rattle, before the another of those catchier than the Aussie 'flu choruses worms its way into your aural cortex and refuses to leave anytime soon, declaring squatters' rights in your memory banks, while the song itself ebbs and flows through changes of atmosphere and tempo with the smoothness of a pair of silk knickers over a whore's shaven thighs.
'Arms Wide Open' is another ballad, and one which again focuses on the power of Godfrey's voice, which makes the hairs on the back of your neck stand up as he delivers the title line in another of those annoyingly catchy choruses, once more supported by some brilliantly harmonized vocals and another stunning solo. 'Is It Over' – of course it ain't – punches its way out of the speakers with a jabbing riff, before the inimitable Paul Laine joins in the fun in a glorious duet that turns this song into an instant modern-day classic of the genre: if ever there can be such a thing as a perfect song, then 'Is It Over' comes fucking close to being one. It's that good.
'Sometimes' takes us into the last quarter of the album with another insanely memorable hook and melody combination, integrating a hard edge with a lightness of touch which characterizes the entire feel of the album, as it punches you in the face before cuddling you in the gentles of embraces. 'Rise Again' is the only track that I have any qualms about, as just isn't as instantaneous as the other ten songs, although it does grow both as it progresses and with repeated listens: by the third or fourth spin, I was humming along to the chorus, and the guitar assault as it approaches its final quarter is a killer.
Closer 'Turn On The Night' – one of only two co-writes, this time with Steve Brown – does its job well, by bringing proceedings to a rousing finale, with another catchy as fuck hook and chorus that will have your feet tapping and your now hoarse voice raised high in celebration of knowing that you have just listened to a brilliantly crafted and delivered album which is an exemplar. This year has started off strongly in terms of quality music, with some of my esteemed Über colleagues have been making claims about contenders for albums of the year being released in just its first few weeks: 'Love Hate Conspiracies' more than likely will be one of mine in 11 months' time.
www.facebook.com/bloodredsaints/
All content © Über Rock. Not to be reproduced in part or in whole without the express written permission of Über Rock.