By DJ Astrocreep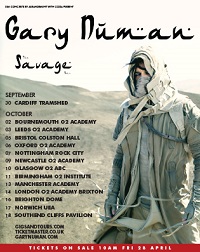 A rainy Friday evening in deepest, darkest Manchester, to see a man renowned for his dark music – sounds like the perfect build up to an alternative gig! Well aware it's a sell-out show, I head down early to try and get close to the front, to properly absorb in the performance of a man renowned for how well he performs live.
There is one support tonight, in the form of Jayce Lewis, who I have to admit I knew nothing of beyond a few songs on Youtube on the way to the gig. He comes on to a quite atmospheric electronic intro and gets straight into the performance. It's striking to note that, from the off, there is on lead guitar – there are two bass players and a synth player in addition to Jayce, with one almost playing a lead guitar role on the bass – a sound quite in keeping, in all fairness, to the performance. The venue is around half full at the start of Jayce, though how many were previously aware of him, and how many were trying to get as far forward as they can for the headline act is perhaps another issue.
From the off, it's clear that Gary Numan himself has had a significant influence upon Jayce, both in terms of his songs and also with regards to his actions on stage, as Jayce finds it almost impossible to keep still, constantly moving around to interact with those at the front of the audience. There is also a heavy hint of Trent Reznor in his mannerisms too – combining both Trent and Gary is usually an easy way to attracting new fans – though there is something that doesn't quite come across properly due to this, I think, as if he is somewhat holding himself back to keep to this image he is presenting to the crowd. On a couple of songs, Jayce plays rhythm guitar himself and whilst certainly not a bad performance – it's a polished set from the band all around – there seems to be something missing that you just can't quite put your finger on. There was an ok audience reaction, but from someone whose music is as close as it is to the headline act, I would expect more applause and the like from the crowd, so this perhaps filtered over to everyone else, too. The venue is almost full by the end of the act, but it's a fairly muted reaction compared to what was to come.
Now it's time for the headline act, though, and the place is full to the brim. Chants of "Numan" ring out from the crowd, urging him to come to the stage. The hazer starts billowing out smoke, and you know that it can only be a couple of minutes before he comes on. The lights drop to a very loud cheer of excitement from the crowd and on comes the intro. On walk the band, each getting their own cheer, before the almost howling of the crowd echoes around as Gary takes to the stage himself.
The screens at the back of the stage light up, and Gary launches straight into a song from his new album. It's clear that there are a lot in the crowd that have listened to it ad infinitum already, as people loudly sing along to even his newest tracks. It's quickly followed with a classic in 'Metal' and this continues throughout the set. It is obvious, looking back on the setlist, how carefully this set has been created, mixing both new and old in the right doses of each. Numan's latest two albums take up around half of the set, but it feels like there is an actual flow to the things despite the switching of eras, in the way that someone as on top of his game as Numan seems to be can do well.
Even from the second song, Gary has a big smile on his face, both during and in between songs – a clear indication of quite how much it means to him and the level of enjoyment he is reflecting himself, from the crowd enraptured by his performance. A fair amount of 'dad dancing' too, as the band play between lyrics, is another clear indication of quite how caught up in the atmosphere Gary is.
There is a slight shift from previous sets with a couple of songs – 'The Fall' being drafted in during the main set, and 'I Die, You Die' as the first encore both going down extremely well with the crowd – though every single song is met with a level of sheer adoration from the enthralled masses gathered for this. To finish, a rendition of 'Are Friends Electric?', is expertly delivered once more. Coming down to the last line of lyrics, the light focuses on Gary, and the music quietens a touch, as if to emphasise his words. With an impish grin, dripping with mischief, he delivers it – "you see, this means everything to me" – and it is abundantly clear just how honest a line this is to his performance. He thanks the audience, takes his bow and walks off stage to the mixed chants of "more" and "Numan".
I have been lucky enough to have seen Mr Numan on several occasions, but it seems that, somehow, he just keeps getting better with age. The best I have seen him perform and an atmosphere that you cannot help but be swept up by. The mark of a true performer.
All content © Über Rock. Not to be reproduced in part or in whole without the express written permission of Über Rock.