By The Dark Queen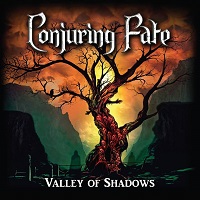 Conjuring Fate was formed in 2005 by Phil Horner (guitar) and Tommy Daly (vocals) in Co Antrim, Northern Ireland. The year 2014 saw a line-up change, when Karl Gibson (guitar), Steve Legear (bass) and Bogdan Walczak (drums) joined and a brought a new invigoration to the band. They released their long awaited debut album, 'Valley Of Shadows', by playing it live for the loyal fans which just happened to be on my birthday. I am making it clear that I have followed their career closely and I am friends with them all, but my views are my personal, honest opinion. So, here are my thoughts about the album…
The intro, an air raid warning progresses into a blast of ripping riffs of the first track, 'Our Darkest Days', with Phil and Karl bouncing energetically of each other. The tightness between Steve's heavy bass line and Bogdan's thunderous drums show case the talent these musicians have oozing out of them. Tommy's vocals slide through the speakers with ease: he has passion, venom and a little softness of quality. Lyrically this is a dig at the state of the affairs of the world today.
'The Marching Dead' tells us about a zombie rising planning to conquer the living and enslave them. Again this is pure passion from the band. 'Dr Frankenstein', their first single from the album brings the listener to the darker side of life and isolation within ourselves. The guitarists seamlessly swap solos with great ease. 'Land Of The Damned' is hard hitting and furious musically. Lyrically highly that this group of friends and well as being a tight group have a fascination with all things horror and isolation while losing your way back home.
The intro to 'Chasing Shadows' shows a softer side to the music these guys produce, with the sound of heavy rain falling in the background, leading into guitars and drums played as if something is galloping towards you but what is it… The lyrics on this track highlight the fear and paranoia a person feels when they are faced with something they have to face alone. This song is very close to my heart: it was a little bit rewritten from its original version when the guys heard I was fighting cancer a while back and I can say they captured my feeling perfectly. It is poignant and makes me both sing and cry every time I hear it.
'A Primal Desire' brings has a blood pounding feel with the heavy punching bass line running through it. The lyrics tell of marching into battle. Next track 'Trust No One' tells the story of the old horror film 'The Thing' (told you the theme is horror lol). The first of their guest artists appears on this track, with Scott Holderby from Mordred (who CF supported when they played Belfast in August 2014) voicing the spoken part. Bogdan's double kicks blast through your whole body on this one.
The last track, 'Apocalypse', closes the album with the fire and passion these guys have in their music. Guitars blended and swap beautifully. Bass and drums as tight as a badgers ass and vocals gliding up and down Tommy's range.
The album also includes three bonus tracks – re-recordings of 'House on Haunted Hill', 'Mirror Mirror' and 'Backwoods Witch', which all appeared on their 'House On Haunted Hill' EP back in 2014. 'Backwoods Witch' has four guitar solos, two of which are guest guitarists – Steve Moore (Stormzone/Fireland) and Neil Frazer (Rage Of Angels & Stagma).
This album was recorded, produced and mixed by Phil in his 'shed' (which houses a full studio) but you can't tell: it is a very high quality production. A warning, though, to those of a weaker disposition: don't listen to this album alone in the dark… listen to it high volume with friends and partying – 'cos that's how I enjoy Conjuring Fate…
www.facebook.com/ConjuringFate/
'Valley Of Shadows' – which was voted #5 in Uber Rock's 'Albums Of The Year' writers' poll, is available HERE.