By DJ Monk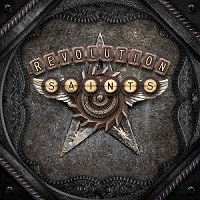 The brainchild of Frontiers Records' boss Serafino Perugino – who not only has a knack for putting together such "superstar" combos (to varying degrees of success, it has to be admitted) but also, it could be argued, has been almost single-handedly responsible for re-establishing AOR and melodic rock in general on the musical map – Revolution Saints (for those who are unfamiliar with the name) brings together three of the most respected musicians in the field: drummer Deen Castronovo from Journey, Night Ranger frontman Jack Blades and guitarist Doug Aldrich. The main difference is that this particular project enables Castronovo to step out from behind his kit and take over lead vocal duties.
The first thing that strikes you as opening track 'Back On My Trail' is how uncannily like Journey it sounds – and, how eerily similar Castronovo's vocal style is to that of Steve Perry. And, as the album progresses, there is one thought that keeps spinning, round and round and round, in this reviewer's head: this is the album Journey should have recorded after 'Raised On Radio'… The pointhis re-inforced even more fully on the likes of 'Dream On' – which is so much like a heavier, faster 'Stone In Love' the two songs could almost be twins separated at birth – and the sweeping 'Don't Walk Away', which could easily sit shoulder-to-shoulder with any of Journey's power ballads.
The Journey connection is re-inforced still further with guest appearances from Neal Schon on the 'Way To The Sun' – and, unfortunately, the Filipino karaoke star Arnel Pineda, who is given a masterclass by Castronovo on 'You're Not Alone'.
Blades does get his moments to shine vocally, and he does so to great effect on 'Turn Back Time' – which, again, does exactly that in its more than doffed cap to the mid-80s – and 'Way To The Sun', and teams well with Castronovo to produce some truly powerful performances, while Aldrich's gritty guitar work adds enough grist and guts to dirty up the sugar-coating which might otherwise threatened to cover some of the tracks. The songs, while formulaic in places – see the aforementioned 'You're Not Alone' and 'Strangers To This Life' – are delivered with the quality, passion and pure professionalism you would expect of the contributors, coupled with a highly sympathetic production by Alessandro Del Vecchio (who also plays keyboards), helps to lift 'Revolution Saints' to the level that many of their label mates should aspire to reach.
Yes, it sounds like Journey. But, with balls. Maybe Castronovo's bandmates should be taking note…
'Revolution Saints' is out now.
www.facebook.com/RevolutionSaints
All content © Über Rock. Not to be reproduced in part or in whole without the express written permission of Über Rock.