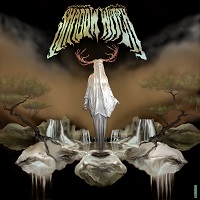 A third release from Shadow Witch is my introduction to them, so before my first listen, I have a quick blast through their previous two to get a feel for them in advance and I immediately get a good feeling for what my ears are about to be pummelled by. A few different influences are pretty obvious in their writing – I'll get to this shortly – with the sound very much of an old school nature, which is hardly a surprise, given these guys have all got plenty of experience under their collective belts in previous bands.
In terms of sound, there two kinds of feel through this album, a hard rock sound with a psychedelic twist and one with a bit more in your face grit and balls – think of it as Orange Goblin with something a bit different, akin to Mastodon's 'Blood And Thunder' and you'll have a pretty decent insight into how the two aspects of Shadow Witch's song creation includes mostly. Most tracks on the album are within usual hard rock specifications – 3.5 – 4.5 mins – with the exception of album-closing track 'Fountain', which comes in at double that with just over eight minutes of stoner goodness.
Probably the best example of the Mastodon sound I mentioned is third track 'Wolf Among The Sheep', with that heavy riffing one would expect from Mastodon, with Earl Lundy's vocals reminding me a lot of Ben Ward's stylings for Orange Goblin, mixed with a bit of proto-doom in Tim Baker's Cirith Ungol days, a mix which works very well alongside the musical backing which veers between uptempo fuzzy bass-driven doom and stoner along the lines of veterans Orange Goblin, a heavy mix in itself. 'Witches Of Aendor' follows this on the album, though with more of a feel on the other side of their sonic landscapes musically.
Shadow Witch are a good example of a band finding their sound on their first couple of albums and really delivering on their third, even if there have been some pretty good highs on their earlier works. It should be of interest to anyone with an interest in hard rock, old school heavy metal or the more modern stoner audience and bodes well for the musical longevity of the band on the currently burgeoning doom-stoner scene. A good album that has earned its right to be heard by a wider audience than the band currently enjoy.
'Under The Shadow Of A Witch 'is released on Friday (14 February). You can get your copy HERE.
www.facebook.com/shadowwitch.band
All content © Über Rock. Not to be reproduced in part or in whole without the express written permission of Über Rock.