By DJ Monk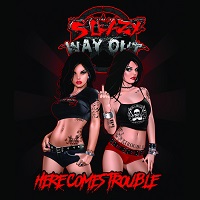 According to the PR blurb, this, the second album from a Canadian combo who make their intentions clear with their monicker, is "a 12 track slab of 100 per cent, whiskey drenched, alcohol fuelled, sleaze rock that will make you want to drink whiskey straight from the bottle, f**k your girlfriend (plus your friend's girlfriend…) and party all night long!" And, to be honest, it's hard to argue with that assertion as 'Here Comes Trouble' is indeed the sort of album that makes you want to drink copious amounts of alcoholic beverages and then take your lady to the next level of ecstasy, with this as the soundtrack to the resulting (multiple) orgasms.
People take rock 'n'f'n' roll a bit too seriously these days, which is why it's always a joy to come across a band who put the capital F into both Fun and Fuck You – and this crazy Quebecois quartet do both, on every level. And the only trouble that comes with this album is going to be trying to get it out of your eardrums for a long time after the umpteenth listen, as it rammed to the gills with glunk-fuelled earworms that just rest in your aural cortexes for ages afterwards…
Very much referencing early Crüe and Poison, there are also very heavy elements of nascent LA Guns and Hanoi Rocks in their punkier moments, while the likes of The Stooges and The Ramones also spring to mind in some of the poppier grooves, such as 'The Perfect Crime'.
Every single song is tight and acerbic, and the pace delivered throughout is as energetic as it is unrelenting, with head-nodding and toe-tapping practically compulsory for the entire duration of each of the 12 tracks presented. The end result is a work of powerfully poppy, glunky, sleazy fantasticness. Now, can the boys send me a bottle of good Canadian whiskey to accompany my next listen?
'Here Comes Trouble' is out now. You can get your copy HERE.
All content © Über Rock. Not to be reproduced in part or in whole without the express written permission of Über Rock.