By DJ Monk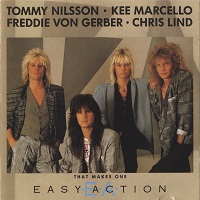 Oi, Eric. Yes, Eric… the one in the back row, with the mullet and the washed-out blue jeans, chewing on the toothpick and acting like you're in some 1980s movie about teenage angst and rebellion. Yes, you: stand up and make sure you're ready to catch this collection of toons better than an England outfielder can grab a little red ball, 'cos you're gonna wanna make sure you grab this and fire it straight into your CD deck (OK, I know they hadn't been invented back then, but, hey, times have moved on, even if your haircut hasn't).
'That Makes One' literally is an album that has been dug out of the AOR archives. The band name may be familiar to true aficionados, as it was the project in which guitarist Kee Marcello played before replacing John Norum in an outfit called Europe shortly after this album was originally released. Easy Action had previously issued their self-titled debut, widely regarded as one of the long-lost treasures of the Scandinavian glam scene, before totally changing direction with this, their more radio-friendly second offering. Unfortunately, the band's momentum hit the stall button when Marcello took up the offer to join Europe – well, why wouldn't he? However, after a couple of equally stalled attempts, Easy Action re-united last year and would appear to be ready to pick up off where they left off 34 years ago… but, while they work on new material (first teased at back in 2016 when they released a single, 'Drop The Bomb'), we are presented with this re-issue.
It has to be said right from the off that 'That Makes One' sounds very much of its time. It has Eighties AOR stamped all over it, inhabiting as it does the same sort of territory that made the likes of REO Speedwagon, Toto, Kenny Loggins and Rick Springfield such massive radio favourites. The likes of 'Talk Of The Town', 'Code To Your Heart' and 'Talk Talk Talk' have heavy rotation MTV likeability oozing from every groove, while the likes of 'Only Love' would have had that girl with whom young Eric wants to dance melting into his cum-stained Y-fronts.
Likewise, it you love the sort of Eighties-style pop rock referred to above, then you're going to cream your jeans over this re-release. If you don't, then you'll definitely be reaching for the Dictionary Of Clichés and the vomit bucket simultaneously. But, it also one of those albums that beggars an answer to that eternal question: "what if…?".
'That Makes One' is out now. You can get your copy HERE.
www.facebook.com/easyactionsweden
All content © Über Rock. Not to be reproduced in part or in whole without the express written permission of Über Rock.