By Jason Walker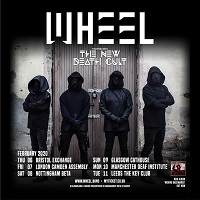 After missing a chance to see Wheel at Damnation festival in Leeds last year, they've been on my "to catch" list for a few months now. Tonight's leg of the tour brings them to one of Manchester's lesser known yet fantastically hipster music bars, The Deaf Institute, situated in the heart of the city's student area just off Oxford Road. Along for the ride is Norway's The New Death Cult in their first tour in the UK in support of their rather fantastic self-titled debut LP.
Tonight is set to be a nice big chunk of prog and I can't wait to get my ears around what they've got to offer.
The New Death Cult's intro track is an atmospheric reverb laden guitar melody accompanied by a low droning bass sample, and on they walk wearing UV paint covered skull masks. The first track they're playing translates really well into a live environment, the sounds exceptionally balanced and it's nice to have a bass guitar that you can feel as well as hear without it smothering everything else; the harmonising vocals they like using come across great too.
It did worry me somewhat listening to their LP that some of the heavy effects they use (reverb, chorus and the like) when playing their melodic parts might get drowned out or lost in the overall sound but I suppose that was unfounded really! The movement on stage is nice and active too which is always good to see since it's not uncommon to see bands that may as well be statues when on stage.
A few hitches here and there with one of the guitars doesn't detract from the overall set too much, on the whole they've carried the show they set out to do quite well and we even got a treat with a brand new song! These classy Norwegian's definitely know how to put on a slick show that not only sounds good but looks pretty damn good too, the UV paint in the style of their LP art is a damn nice touch.
Taking to the stage in all black hoods, Wheel immediately causes the audience to fall almost silent with anticipation. They hit it off with a drum and bass guitar heavy intro that really reminds me of TOOL in a lot of ways, the light show for this is pretty damn spectacular too. This is the sort of prog that is in a lot of ways quite rare these days, but the fact that Wheel are here flying the flag without any hesitation is great.
Seriously, if you like your big drawn out atmospheric songs with an emphasis on telling a story then I urge you to check out Wheel's discography, and then get yourself along to wherever they're playing next. Whoever's running the sound on this show is doing a bloody great job of making these band's sound so huge on such a small stage. At the time of writing this I've told several friends that they need to get on Spotify and give these guys a listen right this second, I'm genuinely kicking myself for missing these last year but they're officially on my "Bands I'm gonna obsess over" list.
I do find it's a bit of a cheap reference to say they remind me a lot of TOOL because their sound is a whole lot more of that but gives the general gist of an aggressive, brash style while still maintaining a big atmospheric sound. Each song ebbs and flows from ambient passages to massive crescendos and has a light show that does a great job of emphasing the big parts. Some of the songs they've played tonight also have elements of Karnivool in their sound due to the often jazzy drum style playing mixed with polyrhythmic chugs, similar to 'Set Fire to The Hive' or 'Simple Boy'.
After having gone through quite a large swathe of their back catalogue, Wheel has put on a thoroughly impressive show. But I think something does need to be said for the exceptional work from the lighting and sound engineers, who both looked to be enjoying themselves for the majority of the set, you both did a fantastic job. Wheel have definitely won me over here with a super tight and fantastic sounding set that does their studio material justice in a great way.
Thanks to both Wheel and The New Death Cult for a pretty amazing evening!
All content © Über Rock. Not to be reproduced in part or in whole without the express written permission of Über Rock.