By Gerald Stansbury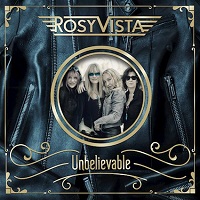 It wasn't too long ago that I was reviewing the debut by Johnny Seven that had been decades in the making. Well, you could essentially say the same for this one as Rosy Vista from Germany unleash their debut full length after first starting in the early '80s. Between this and John Diva and the Rockets of Love, I have to keep reminding myself that this is 2019 and not 1985, and I don't see that as a bad thing. Many probably just stopped reading, but I know there is still an audience who loves this style because I don't think I am alone… The question of if I like it though always comes down to the actual songs.  
Rosy Vista remind me of bands like Keel who never quite hit that mainstream success because they had a bit too much bite in their sound, even though they packed their songs with big melodic hooks. Lead track 'Crazy' features a simple hook and solid guitar riff that might not offer anything new, but the song is enjoyable. It is also not often that you hear Rudolph Valentinio namedropped in a song.  Andrea Schwarz possesses a nice clear rocking voice designed for this kind of metal style anthem. 'Sadistic Lover' goes for more of a groove with the chemistry by Angela Mann (bass) and Marina Hlubek (drums) on display. The hook doesn't grab me as much here though. Anca Graterol's guitar takes prominence at the beginning of 'Master of Control' as it then transitions to a very commercial sounding 80s hard rock song with a nice hook. This song sounds like it was lifted directly out of the mid 80s (Bonfire comes to mind) and would have likely been very popular on Dial MTV.
The band slow things down with acoustic guitars on 'Too Much Feeling' providing a nice curve ball to the sound. The tasteful electric guitar sounds excellent, and this is one of my favorites from the album. 'Tables are Turned' immediately turns the amps back up to ten, and I wish Schwarz had gone with a lower tone on the verses as I think it would have ultimately given the song some extra power. The chorus is large and designed for audience participation while Graterol's guitar solo shows some excellent restraint and is my favorite part of the song. Wrapping up the first half of the album is the relatively midtempo 'Until I'm Satisfied.' The song is fine while it is playing, but it doesn't ever really grab me or stick with me after it is done.
The rapid fire 'Hopatina' opens the second half of the album in style with Graterol's guitars getting an extended run at the beginning. The chorus is not like anything else on the album and really provides a very nice moment on the album. This is one of the songs that I can see myself mixing into some playlists this year to see if it can get me to return to the album for more listens to the complete work. 'Poor Rosy' shows the band trying to write a lighter more straightforward song, but this one just does not connect with me. It just feels forced to me. The beautiful guitar work to start 'Sound of your Love' corrects things to some degree as this ballad sounds more like early 90's Heart. I like how the tempo transitions but wish the chorus had a bit more sizzle to it.
'Rockin Through the Night' feels like a breath of fresh air as it brings back some aggression, coupled with some big background vocals. For me, this is another of the best songs on offer here. 'Changing my Mind' once again sees the band slowing down the pace, even thought the song does pick back up the pace. The chorus catches my attention each time, but the verses here don't grab me. A cover of 'Born to be Wild' closes the album, and I will admit I have never been a big fan of the song anyway, even when Zodiac Mindwarp did it, so this doesn't really end the album of the best note for me.
Something of a mixed bag overall for me, there are a few songs here I really enjoy and will likely find some time to play, but the album as a whole is more of a miss because of the moments that just don't touch my soul. If you dig old school 80s metal, this is definitely worth a sample as the songs might connect more with you than they did with me.
'Unbelievable' is available now. You can get your copy HERE.
All content © Über Rock.  Not to be reproduced in part or in whole without the express written permission of Über Rock.