By Monk
Writing an obituary is never easy. It is so much harder when it is that of not only of someone you knew but also called a friend. And so, I will admit to struggling to write this humble tribute to Steve Strange, one of the most influential, powerful and respected figures in the modern music business, but also a true gentleman and a loyal friend.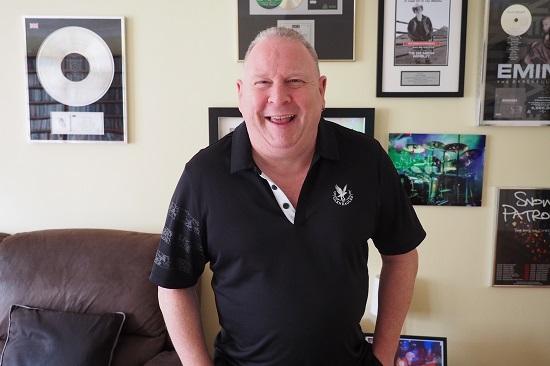 Steve, the driving force behind Strange World Management and X-Ray Touring, died yesterday (Friday) after a short illness. He was 53 years young. Over his career, he was responsible for building artists such as Eminem, Coldplay, Snow Patrol and Rihanna not only into international superstars but global brands. He also acted as agent for, and managed, rock and metal acts such as FM, Saxon and Wayward Sons. It is a mark of the esteem and respect in which Steve was held that many of these bands remained with him throughout their careers.
I knew Steve for almost 40 years. We grew up in the same seaside town, Carrickfergus, just to the north of Belfast, Northern Ireland. We were both long-haired rock 'n' roll rebels in an otherwise staid, country-music loving commuter town, part of a small group of equally long-haired rock 'n' roll rebels creating a big noise in the quiet, leafy suburbs. Our weekend-long parties were the stuff of local notoriety.
It was from such humble beginnings that Steve rose to the global stage, but maybe not in the way in which he first envisaged. He started out as a drummer in a local rock band, No Hot Ashes, one of the "coulda shoulda" stories of the music business but to whom he remained fiercely and passionately loyal, reuniting with his former band mates 20 years after they first split up to reignite the fire in their collective bellies, leading to them ultimately recording and releasing their debut album some 35 years after they first formed. He also maintained his passion for drumming during stints in Fastway.
His first job on the industry side of the music business was working out of a converted broom cupboard booking bands for Belfast's Limelight venue, from where he moved on to booking agent for indie rockers Ash, which resulted him relocating to London… and the rest, as they say, is the stuff of legend.
Despite the global nature of his business, Steve was a humble man who never forgot his roots, often returning home to visit his family, to whom he was also fiercely loyal. He even maintained an office in his penthouse apartment in Belfast city centre. He never forgot his friends, and especially those he grew up with, never refusing a 'phone call and always answering emails and messages. And he maintained his love of music, employing a team of talent scouts all over the world and avidly listening to demos of new bands; he could often be seen standing at the back of a venue, be it in LA, London or Belfast. When he took on a new band, he gave them 100 per cent of his attention, treating them in exactly the same way that he did the massive international superstars whom he had helped lift from the same situation.
On top of his incredible work ethic, he did everything with a smile on his face – an attitude reinforced by the fact that he also possessed one of the dirtiest, most infectious laughs of anyone I have ever known. He had that all-important "can-do" attitude. He was a man who believed in people and believed in music. He epitomized everything that is good about the music business, and what can be achieved with the power of self-belief.
RIP Strangey.