By Team Angel
With the Covidications of the past 18-plus months having starved so many of us of our love of live rock 'n' roll, it is perhaps not surprising the lengths we'll go to for a fix now that things are returning to normal, at least in most parts of the Über Kingdom. So it was that we found ourselves making the 400-mile round trip from the valleys of south Wales to the Steel City itself for a weekend of NWoCR-themed rock 'n' roll action. Bring it on…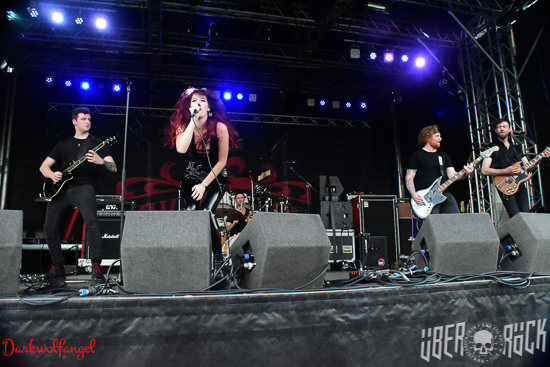 Opening proceedings were Blackburn rising stars Bastette. Caroline Kenyon`s vocals were shown at their best in both the upbeat and the slower, more melodious songs. Their new single, `Rollercoaster`, went down a storm with the crowd. An excellent set.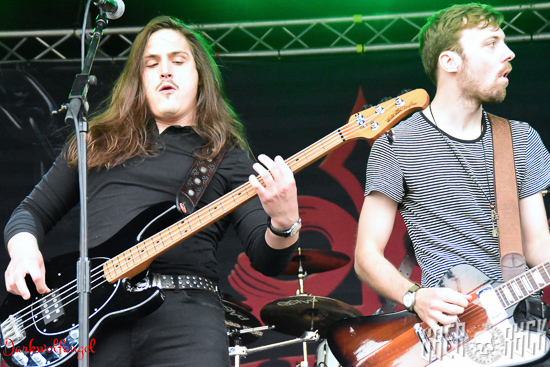 Next up we had Daxx & Roxane, a four-piece melodic rock`n`roll band, originally from Switzerland, but now based in London. They performed songs from both their albums, all of which contained great riffs and chorus hooks that got the crowd involved. A fantastic version of Stevie Wonder`s classic 'Superstition' had everyone singing along. D&R have great energy on stage and are definitely a band to watch out for.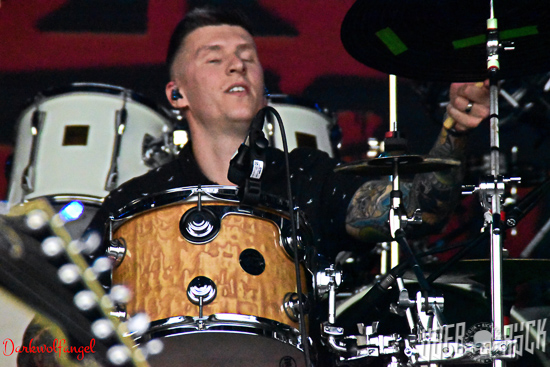 Local lads Steal The City (great name for a Sheffield band – Ed) had been called in to replace Liberty Lies, due to the almost inevitable Covid issues – and they were an great replacement. There was loads of energy in their set as the fans rocked with them through `Wallflower`, 'Know It All` and `Beating Heart`. We were also treated to a preview of their next single, Supremacy, to be released by end of this year.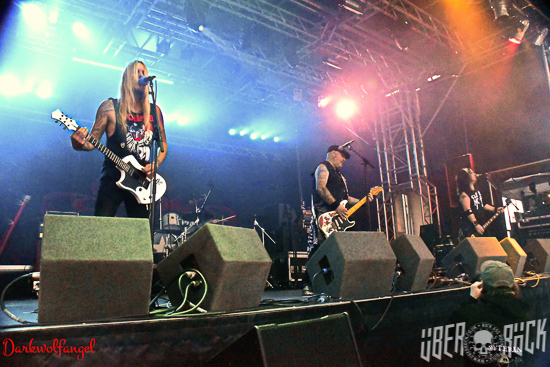 This was The City Kids' first open air show and the last of their current tour dates. They paid an emotional tribute to Mickey Lawless, which was well received by the crowd, as they performed on the stage named after him. The band features members of The Main Grains, Tigertailz, Warrior Soul and Falling Red. It was a very energetic set from them, in their punk rock style, with 'Rats' being lapped up by the fans, alongside their new single, 'Should Have Been You'.
The Outlaw Orchestra were at the first Rockin' The Bowl in 2019 and deservedly have moved up the bill to a main support slot. They are full on Southern-style rock, which got everyone foot stomping throughout the set. A highlight was `See You In Hell` from their debut EP, `The Devil Made Me Do It`.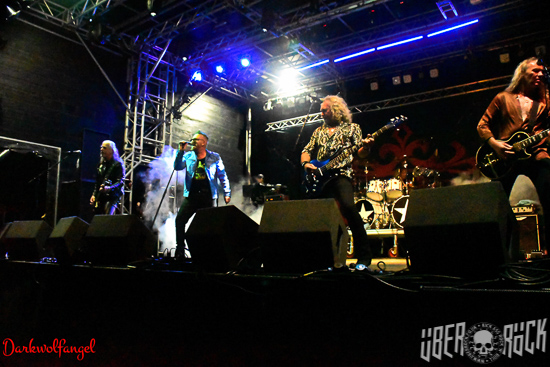 We first saw headliners Cats in Space at the launch show for their debut album at the Half Moon in Putney way back in January 2016. Since then, they have released four studio albums, the latest being `Atlantis` and have toured with Thunder, Deep Purple and Status Quo, along with their own tours for 'Scare Crow', '…Narnia' and `Atlantis`, as well as headlining at various festivals, such as this one. If you like '70s style rock they fit the bill perfectly: their harmonies are superb and the music is full of influences like Queen, ELO, etc., but distinctly Cats…
The current line-up of Greg Hart, Andy Stewart, Jeff Brown, Steevi Bacon, Dean Howard and Damien Edwards, take us through a journey in their set, with songs from all four albums, starting with 'Too Many Gods', then on to 'Spaceship Superstar'. Next, the tempo slows with 'Twilight', followed by the first single, 'Mr Heartache' and 'Only In Vegas', 'Silver And Gold', 'Listen To The Radio' and 'September Rain' follow, while the set is rounded out by 'Marionettes', 'Atlantis', 'Thunder In The Night' (a dig at disco), 'Mad Hatter`s Tea Party' and 'I Fell Out Of Love With Rock`n` Roll', ending with 'The Greatest Story Never Told'. For an encore they introduced us to the 'Hologram Man'.
It was a great set that would have pleased many of `The Cat Army' present and people new to Cats in Space alike.
Saturday's action is kicked off by the new-look Joanovarc. This was the girls' first gig with new vocalist Hazel Jade Rogers, who recently replaced Laura Ozhall, but there was no sign of any nerves as they performed their set. The chemistry between them was very visible as they rocked out! Hazel`s vocals were amazing, and her look was amazing too. We loved it!
Next up were near neighbours of ours, the "Tydfil Three" that is Florence Black. They blasted through their set, with such a huge sound for three musicians. We were treated to a sample from their new album, 'Weight Of The World', which was released just a few days' later. The icing on the cake for me was a magnificently performed cover of Budgie`s 'Breadfan'.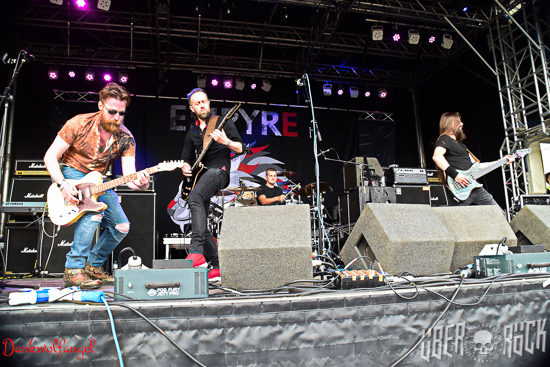 Empyre's sound put us in mind of prog. The lyrics were sometimes dark and very atmospheric. It was a good set by them, and they enjoyed themselves on stage, which was felt by the crowd.
Hell`s Addiction's brand of hard rock was full on, with loads of energy on stage and powerful vocals. Their set was fantastic, as they breezed through song after song. They're a great bunch of musicians and the crowd enjoyed how much they really rocked.
Hard rockers Bad Touch rattled through their set, with lung busting vocals and great reactions from the crowd as they clapped and cheered.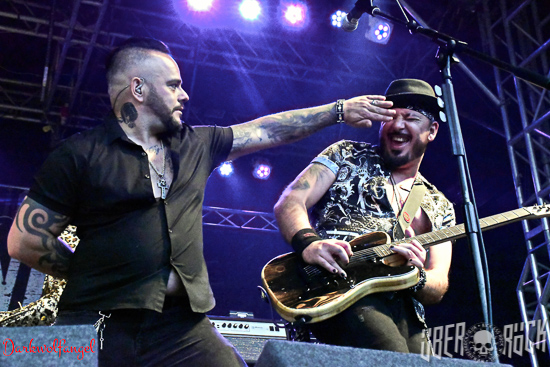 Gin Annie certainly kept the momentum going, with the fans getting involved with the choruses. It was a great way to get the fans ready for headliner Doro. The guitar solo in 'Devil in Me' was just mind-blowing. If you get a chance to see them, you won`t be disappointed.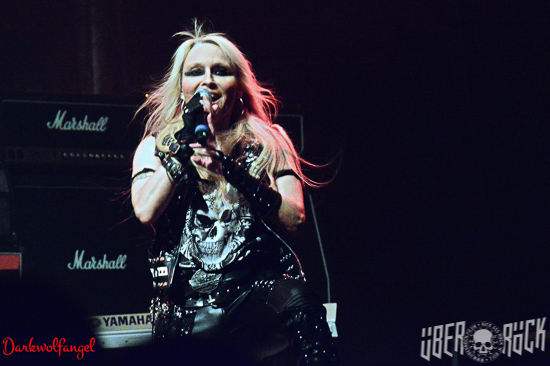 At last the Metal Queen took the stage, and we swear that if there had been a roof it would have been blow off, as the arena erupted with cheers, claps and whistles. Doro really puts on a performance as she goes through her set list, encouraging everyone to get involved. She has a youthfulness about her as she performs, giving it her all as she feeds off the crowd. Her backing group are very accomplished musicians and the overall vibe was magnificent, especially when she was joined by local hero Paul Quinn from Saxon for a version of 'Breaking The Law'. You could tell she really is The Metal Queen… LONG LIVE THE QUEEN…
For it to be 11am on a Sunday, there was a surprisingly large crowd for the first band of the day, The Dukes Of Bordello, who have an interesting set up of a double bassist, guitarist and drummer. Despite the early hour, they ripped through their set, waking up the crowd very quickly .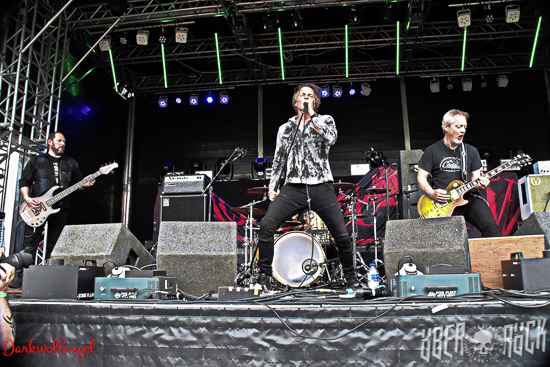 With Fred Hale from Sons Of Liberty standing in on lead guitar, Black Whiskey carried on waking everyone up, with a great set which went down very well with fans and created great atmosphere for the rest of the day.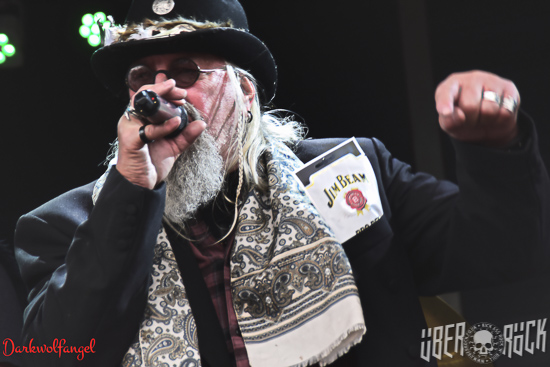 No sooner was Fred Hale off the stage than he was back on it with his own band, Sons Of Liberty, who delivered a great set, with loads of energy from these guy. Simon, as a vocalist and frontman, is fantastic: he puts on a real show. We loved it and so did the crowd.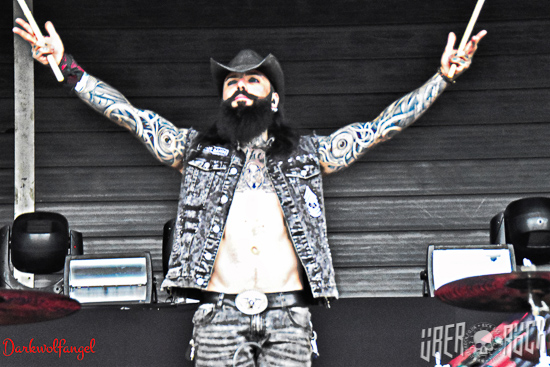 Carrying on the Southern rock genre we were treated to a hand clapping, foot stomping set from Bootyard Bandits. Everyone loved it!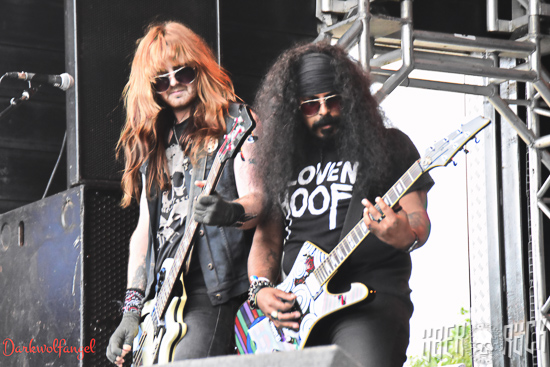 The Wicked Jackals were standing in for local heroes Skam, who were another band who had to pull out at the last minute due to Covidications. They proved to be a great replacement, keeping the fantastic vibe going with their set.
Unfortunately, due to a combination of tired old bones and a 200-mile drive home to South Wales for an early Monday morning start, we had to miss Hollowstar and headliners Massive Wagons: ah well, our loss ☹ But, we left looking back on a great festival overall. Thanks to Steve Geno and all the team for getting the show on the road, and to all the vendors and merch sellers around the site… Job well done everyone.
PHOTO CREDIT: All photos © Darkwolfangel/ Über Rock. Copyright remains with the photographer. You can view our full gallery of photographs HERE.
Rockin' The Bowl 2022, featuring Orange Goblin, Diamond Head and The Quireboys, takes place over the weekend of 9-11 September.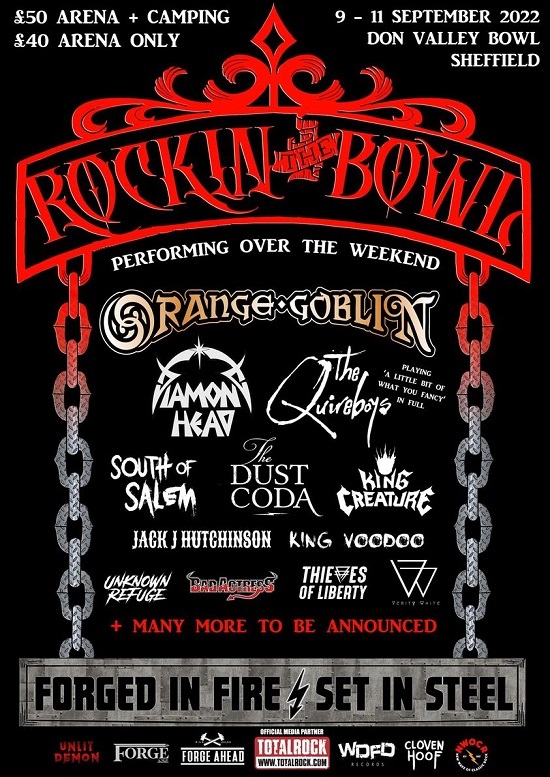 All content © Über Rock. Not to be reproduced in part or in whole without the express written permission of Über Rock.