By Lesley Macdonald and Allan Maxwell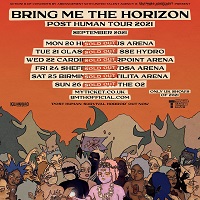 Bring Me The Horizon have been busy, emerging from lockdown with a swathe of new material which strides, shoulders back, proudly into the field of pop-infused metal. Controversial some may say, as the band travel further from their deathcore roots but, according to frontman Oli Sykes, who remains unfazed by the criticism, it's a natural progression that just means BMTH know how to write good songs. This tour is designed to promote the 2020 album 'Post Human: Survival Horror' which has contributions from various capitalized chart-topping pop and alternative artists such as YUNGBLUD and BABYMETAL. The tour also features one of these artists, Nova Twins who collaborated on the track '1×1'.
Although the album title may seem to refer to the trials and horror of the pandemic, it actually was lyrically adapted given the context BMTH found themselves in. The original concept of 'Survival Horror' refers not to the pandemic but to a genre of games that include 'Resident Evil', 'Dead By Daylight' and 'Parasite Eve', also the name of one of the album tracks. The album is apocalyptic in a similar vein as it crosses themes such as the fight to deal with addiction and mental health issues as well as building frustration at the political and moral mess the world finds itself in. Should be fun.
Nova Twins hit the stage at the Hydro incredibly early. It's 6.45 and the standing area isn't even half full but I've heard good things about this band and made a point of trying to catch them. Just through the doors and they're on. Londoners Amy Love and Georgia South are supported by drummer Tim Nugent. Their sound immediately makes you want to move. Bass heavy and bouncy it reverberates right through you and although I haven't quite warmed up yet, this is definitely a good start.
Although Nova Twins' sound is original and fresh, it's their stage presence that makes them really stand out. They're right at the front of the stage, Amy singing into the faces of the crowd, Georgia foot up on the speakers on the bass. They look good too in shredded cargo trousers and knee-patched jeans with wild hair and an attitude to match. Their confidence in what they are doing is obvious. This is a band who strongly believe there should be more people of colour in rock music and have actively set about trying to influence change, petitioning the MOBO awards to include a rock/alternative category and taking the time to champion and support emerging artists in their playlist project 'Voices for the Unheard'.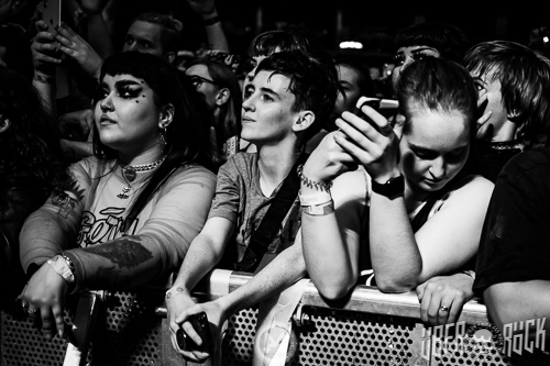 The show itself features no major stage production, just light work and the band's logo. The big screens aren't even on yet but Amy's voice is deep and rich and she has such a great range that she has the full attention of the room. This and the pair's infectious presence soon engages the crowd through songs such as 'Taxi' and 'Bassline Bitch' as by the end of the short half hour set, they have Glasgow crouched down on the floor and then leaping into the air with fists in the air at the break. Not bad at all for the slot they have and the time of night. Impressive actually. I'd like to see them live again and I'm left feeling glad I made the mad dash to get here.
I sit in the bar area and watch the crowd between sets. It's such a strange mix of people. There are all ages of people here and all types. Usually, a band has a particular kind of follower but not Bring Me The Horizon. A band that has evolved so much from a heavy niche metal genre to embrace pop into their music has a huge potential fan base and I see families and young people as well as older adults in the crowd. Apparently, you can tell the long term fans from the newer ones by the way they dress. Well, it passes the time anyway. Is that Bleed From Within that just walked past me?
When You Me At Six come on then, I'm full of expectation. I've heard of them before and I know they are a popular band. Nevertheless, there were murmerings before the release of seventh album 'Suckerpunch' that this could be their last. Having started their career well with early albums including 2008's 'Take Off Your Colours' and 2011's 'Sinners Never Sleep', they then fell into the trap of releasing more of the same. Without evolving, the sound for some became too formulaic and it seemed like You Me at six might be on the way out. However, some said that in 'Suckerpunch', a last ditch, nothing to lose offering, some of their old fervour had returned.
For me, as they launch into 'Nice to Me', 'MAKEMEFEELALIVE' and 'Reckless' unfortunately I wasn't convinced. The crowd is quiet through the first three songs and while YMAS are clearly an experienced rock band with presence on stage I didn't get excited by them. They warm up as the set progresses through songs such as 'Bite My Tongue' and 'Adrenaline' and the crowd eventually come to life for the bands ''crowd-surfing song'' 'Lived A Lie' as frontman Josh Franceschi notes the presence of an increased number of yellow jackets at the front of the stage. There were some crowd surfers but I'm trying to work out if they were fans or just some drunk Glaswegians trying to make a party out of a Tuesday night. In the end, You Me At Six put on a professional stage show. They were full of energy and worked hard, it just didn't translate for me.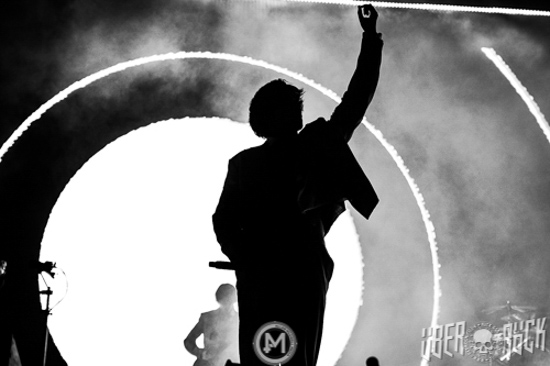 When BMTH finally come onto an ominous intro and smoke covered stage the place is packed and the atmosphere and anticipation kicks up a notch. I know that this is going to be a long set as frontman Ollie has talked about wanting to play the entire album as they return to arena tours. To the Glasgow mantra of 'Here we, Here we , Here we fuckin go' BMTH open with an extended mix of 'Teardrops' as the band take to the stage in grey suits, bursting with energy and ready to set the place alight. Streamers burst into the crowd as they stand transfixed. ''Glasgow'' yells Ollie, ''How the fuck are we feeling? Now I aint seen a moshpit in 18 months, so you're going to show me a fucking good one now''. When the break comes, you're definitely not standing still any more.
'MANTRA', about trying to find a reason to live, is next and I move a bit deeper into the crowd where there's a challenge set by two people I've never met to steal some lassie's cowboy hat. Scuffle ensues over said hat, ending with said burly gentleman getting a quick shot before having to hand it back. As the third song 'The House of Wolves' begins the band are enclosed behind a metal cage onto which there's a projected light show programmed by none other than Goonzi of Bleed From Within… ah. Talk about making the photographer's job difficult! It is a spectacular show though and as we progress through 'Medicine' and 'Happy Song' the band winds itself up before letting completely loose and thrashing the guitars to shreds with 'Dear Diary'.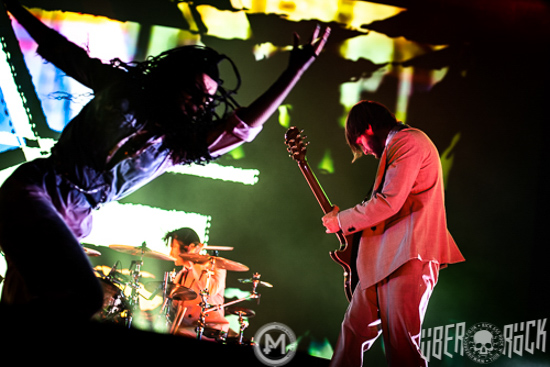 Popular 'Parasite Eve' begins with Oli on his knees praying for redemption. As I look around the crowd all those different people old and young, original fans and new fans are singing every word. It doesn't matter, they're fans whatever the case.  BMTH keep the crowd going through 15 post-apocalyptic songs, and playing seven of the nine tracks from Posthuman as well as a smattering from earlier albums including new single 'DiE4u' the first offering from the follow up to Survival Horror. After a show like this there was no way they were getting let out of Glasgow without an encore and BMTH obliged with 'Obey', 'Throne' and 'Can You Feel My Heart'.
It's a tale of three bands, one starting out, one standing still and one continuously evolving. If this is popular music, I'm not ashamed to like it. BMTH skillfully blend the worlds of pop and metal and make something of their own. They've taken it a step further than metalcore bands who add a bit of melody to the mix and make the charts. They've learned how to bend pop beats to their will and that when you open your mind to new ideas you can change the world. Make sure you see BMTH on tour sometime soon. You won't be disappointed.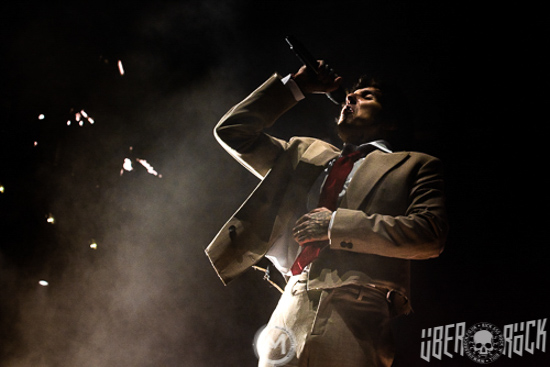 PHOTO CREDIT: All photos © Allan Maxwell/Über Rock. Copyright remains with the photographer. You can view our full gallery of photographs HERE.
The remaining tour dates, in Sheffield tonight (Friday 24 September), Birmingham tomorrow (Saturday) and London on Sunday, are sold out.
All content © Über Rock. Not to be reproduced in part or in whole without the express written permission of Über Rock.