By Monk
Today we are delighted to join with our friends at C Squared Media to premiere the absolutely in(s)ane new video from Pennsylvanian hillbilly rockers Scattered Hamlet, who have delivered us, by specially commissioned and jet-packed trans-Atlantic carrier pigeon, a new single, the equally fun-tastic 'Stereo Overthrow'.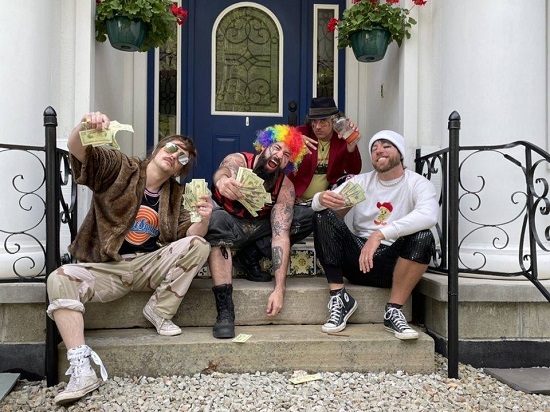 The release is the quartet's first in three years (their last being a manic, Dee Snider-approved cover of the Twisted Sister anthem 'Stay Hungry'), and is a tongue-in-cheek but nevertheless damning indictment of how the moguls in the entertainment industry latch on to the "next big thing" and then try to mould it to their own ends, as SH frontman Adam Joad told us:
"We were really inspired by Rudy Ray More and his journey as 'Dolemite'.
"Here's a guy that every film distributor laughed at; but he knew his audience and had faith in his product. He's a legend. When we started talking to record labels, they were talking to us because what we were doing worked, but then they wanted to change everything because they didn't understand what we were doing or our audience.
"It made me think of Rudy and Dolemite, so we made a video that was a nod to sticking to your guns and doing things your own way when everyone wants you to be something else."
With the record company exec very clearly modelled on a cross between legendary wrestling commentator Jim Ross and the unforgettable Boss Hogg, and the band portrayed dabbling in various musical styles (including an hilarious black metal pastiche), the song is a sort of cross between Kid Rock and 'Fat Lip'-era Sum 41, while the video could also be seen as an affectionate homage to those so brilliantly produced by Blink 182, and especially their boyband/media hypocrisy bashing 'All The Small Things'.
So, without further ado, crack open a cold one, press the little arrow and enjoy…
www.facebook.com/ScatteredHamlet
All written content © Über Rock. Not to be reproduced in part or in whole without the express written permission of Über Rock.