By Rich Hobson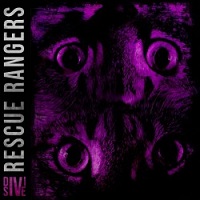 Marseilles' Rescue Rangers don't so much sound inspired by Helmet as they seem to have been scraped from the blacktop following the impact the New York alt metallers had following the release of 'Betty'. But then, being compared to one of the '90s most scene-inspiring bands is by no means an insult, and what Rescue Rangers lack in direct individuality they more than make up for in both energy and addictive, meaty songwriting. While the band owe a considerable debt to the chunky sound of Helmet (not hurt by the inclusion of Page Hamilton at the mixing desk), 'Divisive' has shades of so much of the '90s/'00s guitar-rock sound, checking in everywhere from Nirvana to Toadies, Cave In and Therapy?, showing an omnivorous attitude to bite-sized rock songs that serves the band well.
'Divisive' lives and dies by its songs, and Rescue Rangers can definitely deliver the goods, their formula perfectly set to offer up a veritable buffet of radio rock with added spice. Getting past 'Delicious & Refreshing' – a song which although admirable in its stop-and-start beatdown feels a little too close to Helmet – the band really hit their mark from 'Accelerate' onwards, the instant-hook of the chorus making it difficult to shake in such a way that it doesn't just feel like service to '90s alt metal, but a spiritual successor. Its now a game of instant gratification, and there is just something so powerfully satisfying about finding meat-and-potatoes rock songs in a world where so much of that has died off.
If radio rock weren't just a modern by-word for pop-adjacent soullessness and post-grunge posturing, Rescue Rangers would be prime candidates for a band who could wrestle the airwaves into submission. Balancing themselves between the harder sound of songs like 'Authority' – a sub two-minute crunchy punk track – and the almost indie energy of 'Loving Your Servitude' (a song which feels like a head-on collision between Helmet and 'Judge Yrself'-era Manic Street Preachers), Rescue Rangers flex the kind of muscles that could turn them into a seriously fun live band with one hell of a back catalogue, each song feeling like it could easily be roared along by a few hundred braying fans each night.
In 2019, we're at a point where the turn-of-the-millennium rock and metal scenes are hitting peak nostalgia. Between alt rock aping scenes that evoke the likes of Nirvana, Everclear etc. increasing nu metal influence on the likes of Cane Hill and Blood Youth, and legacy acts coming back into prominence (at the time of writing a UK tour featuring Static-X, Soil, Wednesday 13 and Dope has sold so well most venues are looking to sell out within weeks of the initial announcement), it feels like it couldn't be a better time for Rescue Rangers to put out Divisive. While the record is unlikely to set the world on fire (the lack of MTV and sheer expansiveness of Spotify all-but bars the traditional wildfire promotion bands used to take advantage of), this is the kind of record that could kill on the club circuit, and given the right support spots could inspire a whole new sea of riff-worshipping rockers to draw deep on the influence of their heroes.
'Divisive' is released today (Friday 5 April). You can get you copy HERE.
www.facebook.com/rescuerangrs/
All content © Über Rock. Not to be reproduced in part or in whole without the express written permission of Über Rock.