By Rich Hobson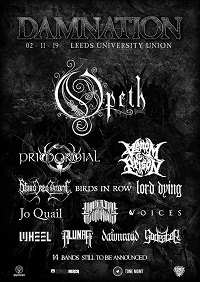 With prog metal maestros Opeth already heading the bill for this year's Damnation Festival, things have just gotten even heavier with the release of four more names to the line-up.
Representing a spread which encompasses both a diverse range of subgenres as well as newcomers and legends alike, the latest announcement is headed by Celtic metal standard-bearers Primordial, and death metal heavyweights Venom Prison.
Ever the space for innovation within extreme music, the Leeds-based festival has also added homegrown black metal talent in the form of Voices and some international fare with the Damnation debut of Norwegian death metal monsters Blood Red Throne for the 2019 event, as well as another 14 bands still to come.
Spread across four stages, Damnation Festival holds pride of place as one of the UK's most prestigious metal events, its line-ups pulling from the diverse expanse of heavy metal canon. Death metal rubs shoulders with doom; doom with thrash and in the past the likes of folk, black and even post-punk have reared their heads (among many, many others), all ready to treat music fans to some of the finest music in the business.
Tickets priced £49 are available from www.damnationfestival.co.uk/tickets.