By Rich Hobson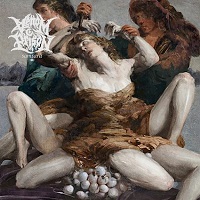 Let's be frank – when was the last time an extreme metal newcomer made waves as massive as Venom Prison? Whether it was No Clean Singing or Kerrang!, Metal Hammer or Noisey, the fact is Venom Prison were being championed every which way on the release of their debut record 'Animus', setting a precedent that suggested they could be one of the biggest death metal-affiliated sensations to come out of Britain since Anaal Nathrakh (or, if you're less bothered about the quality of music… Bring Me The Horizon).
It's not hard to see why; the band are an absolute force of nature, furious and jagged in their assault, powering through with a sense of unrelenting nastiness that reaches into the depths of extreme metal and pulls out its pulsating heart. But that was then – what about now? Three years can be an eternity between records, especially for new bands, but the fact VP have never been far away from a stage – or handy re-release of 'Animus' – has certainly done much to keep stoking the flames of interest in the band, and 'Samsara' pays it back with an unbelievable yield of heavy brilliance.
Though its title comes from the Buddhist concept of rebirth, 'Samsara' is no such reinvention of what Venom Prison are about, but rather a reaffirmation of all their most unstoppable attributes. The, erm, venom this record is steeped in puts the record on almost uncomfortable levels to listen to (something only found elsewhere in the likes of Mastiff or Couch Slut), but there is something undeniably satisfying about the band locking in to seismic grooves and beatdowns, drawing on their hardcore-outlier influences to deliver the kind of smackdowns Cena could only dream about.
Because that's the thing about VP – this band thrives on delivering the hurt, and Samsara definitely doesn't fuck about in that respect. The extreme technicality of opener 'Matriphagy' will straight away set any tech-metal fiend's ears ablaze (or technical DM fan, for that matter), but it's from 'Uterine Industrialisation' that this record truly hits its stride, balancing both the enormous thrash grooves of its riffing with a non-stop barrage of carpet-bomb style drumming and shrieks that would make a Norwegian quake in their boots.
The instrumentation truly is MVP in the Venom Prison formula, finding organic ways to express the kind of technical brutality that feels like chalkboard doodling by anybody else, putting so many other extreme-inclined bands to shame by sheer proficiency. Fling in some absolutely insane – and most crucially, non-gratuitous – guitar solos and it becomes apparent just how much flair this band possess, elevating them above the flotsam. So many other bands fall under either because they a) over-write their songs, turning them into technical marvels with little-to-no sense of pacing or songwriting, or otherwise b) adhere to formulas so basic that it just becomes cookie cutter 'heavier than thou' bollocks, but not VP; this is a band that knows exactly where to a prod, stab or shrieking assault needs to go for maximum carnage.
The results speak for themselves; try not to kick through the wall hammering along to 'Self Inflicted Violence', or lose a lung trying to howl along with 'Asura's Realm'. Venom Prison have brought their a-game to this sophomore effort, building upon the success of Animus, climbing even higher than that stunning debut to reach whole new plains of existence. We hit the home stretch of Samsara on 'Dukkha', the track featuring quite possibly one of the most insane vocal performances you're likely to find this year, the perfect set-up to 'Naraka', a track which brings the house down around itself with unrelenting nastiness.
If 'Animus' was a statement of intent for Venom Prison, we can only bristle with unbridled excitement at what 'Samsara' represents for the band – a record which surpasses its predecessor and builds the band to such a degree that it's hard to imagine loving extreme metal and not being an absolute fanatic by the end. As brutal as ever, and determined to show they neither need to completely change themselves nor stick doggedly to the same formula, Venom Prison have easily side-stepped the sophomore slump to create an extreme metal masterpiece.
'Samsara' is released on Friday (15 March). You can get your copy HERE.
Venom Prison play the following dates at the end of May/beginning of June:
Wednesday 29 – Birmingham, Mama Roux
Thursday 30 – Bristol, Exchange
Friday 31 – London, Underworld
Saturday 1 – Leeds, Key Club
Sunday 2 – Manchester, Rebellion
All content © Über Rock. Not to be reproduced in part or in whole without the express written permission of Über Rock.