By John Bedard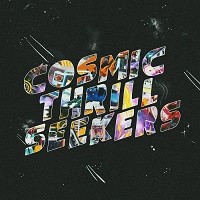 This is a very unexpected album for me. It has a lot more thought put into it than I normally expect from punk. Usually I find punk carefree and it takes me back to the time I lived in California with music too loud hanging with my friends. 'Cosmic Thrill Seekers' takes me right back there but is much more somber while at the same time being whimsical or at other times being quite dark. This is not the "just blare it and make the neighbors wish you would move away" type of punk that we are used to. Don't get me wrong all of that is still here but this is more evolved and more motivated.
In the e-mail that the album was sent to me with for review it was stated that the point of the album was mental health. Gregory is even quoted as saying "It's very, very, very much a selfish record." He went on to state that it was written for him to look back on and to help him when things get dark. This makes the whole album very personal. Like you are listening to the stream of thoughts from a friend when they are hurting. I have never met Gregory, and probably never will, but I feel like I know him personally after this album. His heart is really in this one.
Musically the album is on point as well. Everything works well together with some unique uses of instruments and arrangements to make a very custom sound that really works. Some instrumentation even reminded me of aspects of The Beach Boys, particularly toward the end of track 5 "Cosmic Trill Seeking Forever". It creates a very nice and interesting experience. Some song transitions however are rather abrupt and even some track separations are off by a little making the last line or not end up on the beginning of the next track instead of where it should be. I found this very odd as the rest of the album is very well produced. I would not have expected that to be an issue but it is really not a huge deal and does not detract from the overall experience.
This is an album that warrants some thought. I found I enjoyed it a lot more when I sat and listened with no other distractions. It is very deep, so it deserves the time to really digest the content instead of a quick listen. I hope this album does for Gregory everything he intended with regard to his mental health. I really appreciate being allowed into his mind for this time, even so briefly. I wholeheartedly recommend this album. You will not be disappointed.
'Cosmic Thrill Seekers' is out now. You can get your copy HERE.
www.facebook.com/princedaddyandthehyena/
All content © Über Rock. Not to be reproduced in part or in whole without the express written permission of Über Rock.