Words by DJ Monk. Photos by Marc Leach.
There's an old saying about spoiling the ship for a ha'p'orth of tar, and unfortunately this album launch show, which had promised so much, especially as it also marked the headliners' first foray north of the Irish border in something like two years, was marred by one small but very important factor – and that, critically, was the inability to hear a large amount of what was going on… something that would be pretty essential, especially at a metal show, I'm sure you would agree…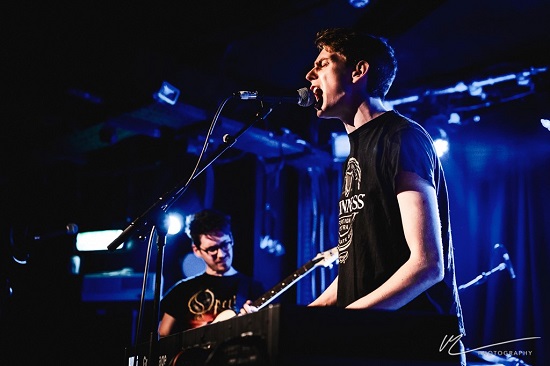 The opening card for this show had changed more times than I had underwear in the week leading up to it, with both of the originally billed support bands having pulled out. So, it fell to youngsters Diamir to valiantly step into the breach and kick off proceedings in front of what has to be admitted was an extremely sparse audience. I had first come across this young Lisburn quartet during the qualifying rounds for this year's Bloodstock Metal 2 The Masses competition, and while I thought they were unsuited for that particular contest I was impressed by what I heard, and this performance certainly didn't do much to change my opinion, as they are a decent wee band, albeit with the inevitable flaws that more experience will iron out of them.
Their keyboard-led ethereal prog produces Blade Runner-esque soundscapes, underpinned by an excellent sense of rhythm, power, especially from the bass, and subtlety. I would like to see guitarist John Wilson given more of a free rein, as he was on the third song, while Peter Devenney's otherwise clear vocals are also their weakest link: he needs to project more instead of singing to the lights overhead. In fact, the whole performance sounds like we're sitting in on a rehearsal, something not helped by the severe lack of audience interaction (sorry, boys, only introducing yourselves at the very end of the set doesn't really cut it). A real pity, because I did enjoy what I Heard.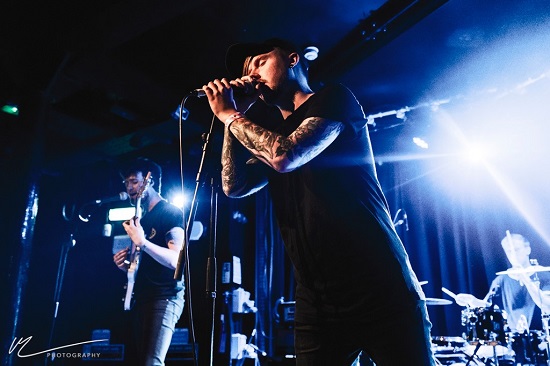 Main support Dream Awake have recently re-animated themselves after an extended hiatus, and they certainly hit the ground running with a powerful set of progressive metal, with the emphasis very much on their undoubted ability but imbibed with a very healthy hardcore attitude, thanks mainly to vocalist Conor Kelly, who gets right in the faces of the small crowd from the very beginning. Their blend of emotion, melody and power is a heady cocktail, and Craig Leetch's bass work in particular is sublime, as he plays in a manner which more that of a lead guitarist, overshadowing Chris Byrne in many places and definitely adds a different dimension to their overall sound. However, the big problem with their set is the atrocious mix on Kelly's vocals, which are practically inaudible in places, and when they can be heard are indistinct: I'm sincerely hoping that it was a technical issue, as I recognize the sound engineer and he's normally spot on…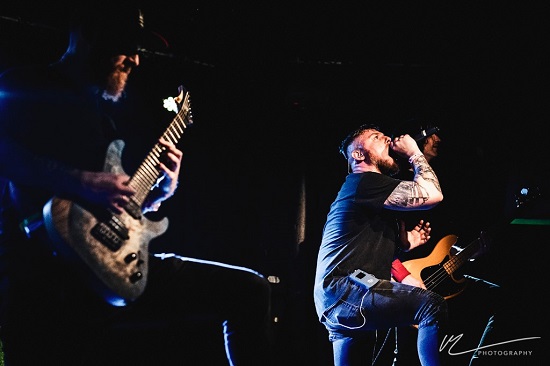 Words That Burn do not get off to the best of starts, as they fuck up their intro, and seem to be suffering a few other issues to boot. However, once they sort out these initial technical issues, they hit with the force of an unrecalcritant tsunami, their sheer power washing through the room with unstoppable force. Once again, however, Roni MacRuairi's vocals – a key element of their sound – are lost in the mix: this particular situation improves about 15 minutes into their set, although the cleaner end of his spectrum is still inaudible in many parts of the room. Nevertheless, the sheer impact of what is happening on stage more than makes up for such technicalities, with the only other complaint being the brevity of the set – just 39 minutes: but, then, it is hard to maintain such levels of intensity for long, and what we get is a clear demonstration of why WTB are one of the most powerful bands to emerge from this corner of the Überverse in recent years.
'Pyres' is out now. You can get your copy HERE.
PHOTO CREDIT: Photographs courtesy of Marc Leach.
All content © Über Rock. Not to be reproduced in part or in whole without the express written permission of Über Rock.