By DJ Monk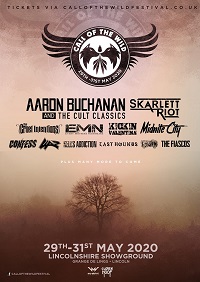 The 2019 festival season may still be in full swing, but one of the newest kids on the block, Call Of The Wild, has wasted no time and already announced some of the acts we can expect to see at next year's event.
Among the bill-toppers in 2020 will be ÜR faves Aaron Buchanan & The Cult Classics, who will be joined by Skarlett Riot, Every Mother's Nightmare, The Cruel Intentions, Midnite City, Kickin' Valentina, Hell's Addiction, Last Hounds, Confess, Resin, The Fiascos and Lipz.
The first tranche to early bird tickets for next year's event, which takes place at Lincolnshire Showground over the weekend of 29 – 31 May, have already sold out. A second batch have been released and are available HERE.