By Jonny Bakes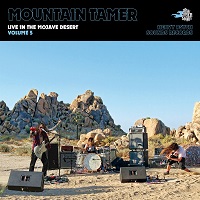 Saturday night has rolled around yet again, which means that it's time for the now habitual beers on the sofa! But, tonight is slightly different because I'm being whisked off to the Mojave desert again (remotely of course) to pick up the fourth instalment in this five concert series that culminates with Nick Oliveri's Stoner in just two weeks' time.
Tonight, it's the turn of a trio of Californian dudes known as Mountain Tamer to cart their gear out into the middle of the desert and play their set to an audience of none. I said this at the last installment I watched, but the whole experience is very heavily influenced by the 'Pink Floyd Live at Pompeii' concert film, which happens to be one of my favourites, so I was more than happy to take up another round! Unlike the Spirit Mother set a couple of weeks ago, this one was filmed in the middle of the day, so there's plenty of glaring sunshine for the guys to handle!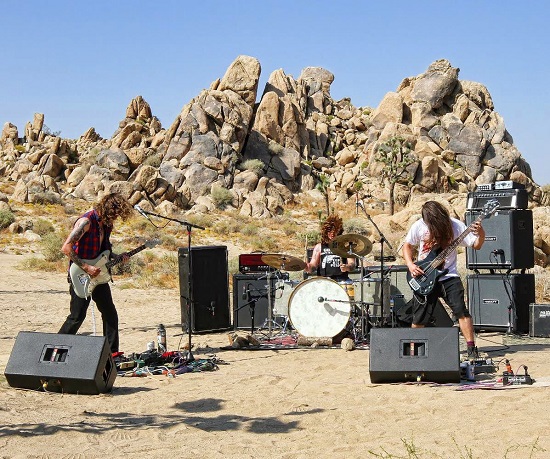 Mountain Tamer have been rocking out for over a decade now and bring a psychedelic twist to their fuzzy doom sound which fits in nicely with the other bands in this series. An interesting fact that came out of the pre-show interview is that not only do these guys have plenty of musical talent, but they've also branched out into hot sauce making with their own brand of cactus, yes cactus, flavoured hot sauce. But we're not here for culinary tips, we're here for the music, so here we go…
The set starts with a brief flyover across the desert to home in on Mountain Tamer who are kicking things off with 'Warlock' with far more energy than I would be able to muster in the middle of a desert! Like the last set I watched, the mixing has been managed extremely well with the sound being pretty close to album-level quality which means you can hear every bit of fuzzy noise exactly as it was intended.
Later in the set is the slightly more aggressive 'Scorched Earth' which gets the old blood pumping quite a bit. The showmanship to this point has been pretty no frills, with a strong focus on the music, which is perhaps what you might expect from a streamed gig of this nature. I can only imagine how much of a bizarre experience it is to perform to no one! After a while though I find myself putting less focus on the visual aspects of the show and just enjoying the music, so it's a good thing that the audio from this set is being released in physical formats to support this show as that's where the real magic is!
Moving through 'Death in the Woods' and 'Funeral of a Dog' we find ourselves at the final song in the set 'Living in Vain'. This was possibly the song I was looking forward to the most, so it's no surprise to see this one at the end. There's a serious Hendrix vibe that comes across in this track that certainly caught the rest of the house by surprise as it was captured perfectly in the set.
Overall, it's been another pleasant trip out to the desert and certainly not a bad way to have spent my Saturday evening. For those who missed it, have no fear because every set from the series will be released on physical formats, including some sexy looking vinyl, and will be available to purchase through Heavy Psych Sounds.
The 'Live In The Mojave Desert' sessions conclude with Stoner, featuring Brant Bjork and Nick Oliveri, on Saturday 20 March.
Heavy Psych Sounds will release the 'Live In The Mojave Desert' sessions on CD and vinyl in April. You can get your copies HERE.
All content © Über Rock. Not to be reproduced in part or in whole without the express written permission of Über Rock.