By Jonny Bakes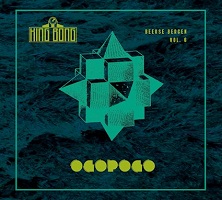 Now I'm not exactly renowned for having the best attention span in the world, so when I realised I'd been handed a four-hour long album, I knew I was going to be in for one hell of a challenge. Yes, I really do mean four hours! I knew I had a choice to make; whether to listen to the album in bitesize chunks or to let it dominate my day while I cracked on with the less glamorous things that I have to do during the day… I opted for the latter.
So, for four hours on a Sunday, King Bong's sixth album in the 'Beekse Bergen…' series, 'OGOPOGO', became the soundtrack to my chores so that I could see what was in store for me. The short answer to that is that there was a hell of a lot to take in and it made for some very odd glances from my housemates as they flitted in and out of the kitchen…
There are probably going to be a line of King Bong fans outside my door after this is published, but I've got to say I just didn't get this album at all. I'm all for experimental music, in fact some of my favourite bands sit firmly in that camp, but this was a bit too far even for me. It came across with a similar premise to the film Rubber in that it seemed that the general reason for everything is "just because'. I can imagine that it would be the kind of album that you throw on for a few hours in the dark and just let yourself get dragged along for the musical rollercoaster that is 'OGOPOGO' but I just didn't have that luxury.
The album itself is entirely instrumental and feels a bit like it was written by someone with a short attention span (like me!) as it changes musical direction frequently and jarringly. I'd say it definitely sits on the more psychedelic end of that stoner rock scale with copious amounts of cosmic sounds and effects to accompany the generally clean guitar melodies. Which is something I can get behind for relatively short periods, but I was certainly out of my depth with 'OGOPOGO'.
That being said, this does have a home in the music collections of fans who are absolutely down with this sort of thing. If you've got yourself so deep down that psychedelic stoner/doom rabbit hole that you can't see daylight anymore then you are probably gnashing at the bit to get your hands on 'OGOPOGO'. And maybe if you have a bit more patience than I have, you can listen to the whole thing cover to cover, take it all in, and decide that I'm completely wrong in my judgement. That's cool though, it's what music is all about after all!
So, all in all, this did not set my world alight, but don't let that stop you checking it out and making your own decision. I can certainly think of a few friends who will be well into this that I'll recommend it to, but it's not going to appeal to everyone. Established fans of King Bong, and psychedelic stoner/doom fans alike – here's another album for your growing collections!
'Beekse Bergen Vol. 6: OGOPOGO' is out now. You can get your copy HERE.
www.facebook.com/kingbongofficial
All content © Über Rock. Not to be reproduced in part or in whole without the express written permission of Über Rock.