By Monk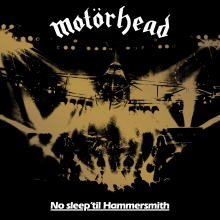 Arguments have raged for decades, and continue virtually every day, thanks to the wonders of social media, about what are the "greatest" live albums of all time? Is it Judas Priest not quite 'Unleashed In The East', or Peter Frampton proving he wasn't as 'Alive' as he claimed to be? UFO showing they weren't 'Strangers In The Night' when it came to overdubbing? Or even the self-styled "most dangerous band in the world" spending a week in the studio and then adding in taped crowd sounds? Well, you can say what you want in those various debates, but there is no doubt that one of the rawest and most visceral live bands on the planet were, and always will be, Motörhead, as exemplified on this epic box set released to mark the fact that it is an unbelievable 40 fucking years since Lemmy, Eddie and Phil endured 'No Sleep 'Til Hammersmith' on this, one of the most singularly honest live albums ever released…
Part of the reason for that honesty is the extremely short timeline between the recording, at the end of March, and the finished album crashing, middle finger raised, into the album charts at No 1 just three short months later, giving little time to apply any in-studio trickery to the finished product – not that Lemmy would have sought to do so, rather wishing to present it warts and all, to coin an appropriate (and reverential) phrase. The remastering of those original songs retains, where so many other treatments have failed, in retaining that rawness and honesty which epitomized the band's sound, merely serving to accentuate the ferocity of Motörhead at their most vibrant, relevant and powerful – something accentuated by some of the rare bonus content included…
Talking of which, his special edition comes in the usual multiplicity of formats, with the four CD box set featuring the full recordings of the three gigs actually edited down to make the original 13-track album: two at Newcastle City Hall and one at Queen's Hall in Leeds – ironically included the wrong way round, with the third show first, which Lemmy probably would love – as well as three sound desk captured tracks (including a rare dissection of 'Limb From Limb') from the second Newcastle gig, meaning that this particular package weighs in at a positively epic 71 tracks of Motörhead mayhem.
With all three of the men responsible for creating this glorious moment in heavy metal history no longer on this mortal coil, this is a timely and fitting reminder of the classic line-up of Motörhead at the height of their powers, making this an essential purchase, especially for those of us for whom the band were such an integral part of our indoctrination into the glories of heavy fuckin' metal \m/
'No Sleep 'Til Hammersmith (40th Anniversary Edition)' is released today (Friday 25 June). You can get your copy HERE.
www.facebook.com/OfficialMotorhead
All content © Über Rock. Not to be reproduced in part or in whole without the express written permission of Über Rock.