By DJ Monk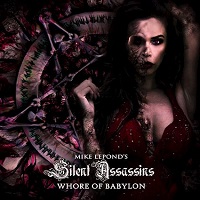 The name Mike LePond will be well known to ÜR's more metallic-minded readers, as he has served for the past 20 years as the bass driver of ÜS symphonic metal titans Symphony X. Having released his debut solo album in 2014, he subsequently appended the title of same to his own name to mould the moniker under which he has now delivered this third self-led opus, which once again sees him employing the now time-honoured power metal combination of historical themes and big-ass anthems, and doing so with the affluent ease you would expect of a musician of such pedigree.
A wealth of historical characters are paraded before us, with vampiric legends such as Dracula and his bloodsucking female counterpart Countess Bathory being brought back to life, alongside Julius Caesar, King Arthur and, of course, the album's titular lead. And to help breathe life into the characters and their revived stories, LePond once again has amassed an impressive supporting cast, including vocalist Alan Tecchio, guitarists Lance Barnewold and Rod Rivera – as well as Symphony X bandmate Michael Pinnella.
'Whore Of Babylon' is, by and large, a "proper" heavy metal album. Yes, the pomposity one would expect from LePond's "daytime" band is ever present, but it is very much a shadow in the background, as he and the band concentrate on delivering a collection of more-or-less straightforward fist-pumping neck-snapping anthems, as evinced right from the off with the opening speed metal assault of 'Dracul Son', which definitely (and defiantly) out-thrash a lot of thrash bands in terms of its sheer foot-to-the-floor paciness. And, yes, it also has it's epic moments, such as on the three six-minute-plus tracks that dominate the opening half of the album, and the positively Maiden-esque eight-and-a-half minute long closer, 'Avalon'.
There are a few surprises along the way, especially on the triptych of six-minuters referenced above, with the contrasting honky-tonk piano outro to the otherwise rumbling 'Tell Tale Heart', the Blackmore's Night-meets-Eluveitie folksiness of 'Night Of The Long Knives', the lyrics of which could be lifted straight from the Manowar canon of cheesiness, and, even more so, its follow-up, the female vocal and flute-led 'Champion', which undoubtedly will prove real lighters-in-the-air material if ever played live.
Elsewhere, however, it's very much "as you were gentlemen", as LePond once again pays affectionate homage to his love of classic metal and NWoBHM in particular, with the Maiden-style bass heavy vibe of 'Ides Of March', the frenetic speed fests of 'Ironborn' and 'Lady Bathory' and the Saxon-recalling pump and groove of 'Power Of Steele'.
While very much a band effort, LePond obviously gets ample opportunities to express his own bass techniques, such as on the Harris-inflected 'Ides Of March' and especially on the appropriately eastern-flavoured title track – which, along with densely dramatic 'Tell Tale Heart', provides the album's standout moments for me – and the aforementioned 'Avalon', with its extended solo intro section and pulsating, bass-driven riff.
Leaving aside some of its corniness, especially in the lyrical department, 'Whore Of Babylon' is a good, solid heavy metal album from one of the most respected musicians' musicians in the business, and it once again makes it easy to see how LePond has garnered the level of respect he has attained from both his contemporaries and fans alike. It's also an album that has allowed its mastermind to stretch in directions he could not otherwise do within the confines of his "other", full-time project. Definitely worth investigation.
'Whore Of Babylon' is released tomorrow (Friday 26 June). You can get your copy HERE.
www.facebook.com/mikelepondssilentassassins
All content © Über Rock. Not to be reproduced in part or in whole without the express written permission of Über Rock.