By Baz Francis
Having lived in The States for nearly four years, there were understandably some parts of British culture that I missed out there, and above even being able to get hold of decent tea bags and cheaply available Marmite, the thing that I missed the most was getting to see the Manic Street Preachers play live.
Last night wasn't so much a regular Manics gig, but a unique event: two separate Q & As with Nicky Wire followed by short acoustic sets from James Dean Bradfield to mark the release of their latest No 1 album, 'The Ultra Vivid Lament'. The show was all taking place at the beautifully adorned PRYZM in Kingston upon Thames, about 15 miles away from where I'm currently living, and thanks to Banquet Records, an extra £1 spent when buying the album through them granted the few hundred in attendance a ticket to the fun. To say that I was pinching myself at this bargain would be an understatement.
The format saw bassist/lyricist Nicky Wire be interviewed about the new album before switching to pre-submitted questions from the audience. Unsurprisingly, 500 submissions were not all handled here, but three were before the stage was quickly cleared for James Dean Bradfield to take to it with his acoustic guitar and whip through a set of new Manics songs and curios. Whilst entering the venue I had accidentally stumbled online across the six songs that he had sung a few hours earlier during the matinee performance, and although that did remove an element of surprise, when he mirrored that same set in front of me I was far from disappointed.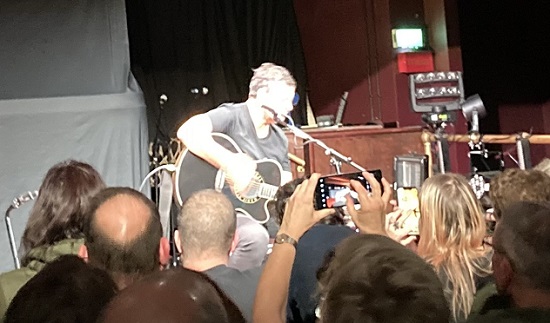 Not only was JDB in fine voice tonight, on close to the 30th time of me seeing him perform live I was only now hearing him play four songs for the first time, including new gems 'Blank Diary Entry' and 'Complicated Illusions'. The real treat for me though was hearing one of my favourite B-sides live for the first time, the stunning 'Donkeys', and although my question about the omission of 'Nobody Loved You' from the recent 'This Is My Truth Tell Me Yours' reissue was one of those that went unanswered this evening, James coincidently performed the B-side that replaced it, 'Prologue To History'. It was great to hear 'Sleepflower' in this format too, and another one of my Manics favourites, 'Die In The Summertime', was also a delight to watch. The benefit of being at the later show was that an extra song was added to the setlist and following a brief debate with the audience as to what that should be, James Dean Bradfield then led the crowd in a singalong of my very favourite song of them all, 'A Design For Life'.
I realise that I've used the word 'favourite' a few times here, but what other can I use when referring to the band that after quarter of a century still remain the cream of the crop to me? Roll on Wembley in December.
Photo by the author.
'The Ultra Vivid Lament' is out now. You can get your copy HERE.
Manic Street Preachers play the SSE Arena on 3 December.
All content © Über Rock. Not to be reproduced in part or in whole without the express written permission of Über Rock.