By Bona Pjarren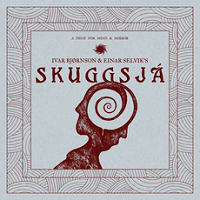 In Norway in 800 AD, at the fields of Romerrike the tribes of free men called Raumene reigned. They fought and gave blot and hails to Odin the rageful and held their Council at Eidsiva. Here they met to divide the land, appoint their rulers and judge those who opposed the laws. Eidsivating still exists as a court today and the historic place of Eidsvoll, where 112 men met and wrote the Norwegian Constitution in 1814, it got its name from Eidsiva. Eidsvoll still has traces of settlements and Viking graves after the tribes of Raumene.
With this in mind, 'Skuggsjá' was originally conceived as a commissioned musical work written by Ivar Bjørnson and Einar Selvik. The arrangement was performed by Enslaved and Wardruna as a concert piece in commemoration of the 200th anniversary of the Norwegian constitution at the Eidsivablot festival in Eidsvoll, on 13 September 2014, showing how far Norway's extreme metal has developed from rebellion into a highly acclaimed artistic expression of a complex music genre under Norway's constitutional right to freedom of speech.
Speaking at the time of the album's original release, in 2015, Ivar and Einar said of the piece: "When we were asked to write a joined convert piece by the Eidsivablot festival for the 200th anniversary of the Norwegian constitution, we both immediately saw the outline of something massive and important. Our performance confirmed that this project should live on, develop and thrive. During 2015, we performed the piece once more at the Roadburn festival and have also discreetly slipped in and out of studios around Norway to record what is to become our debut album. We are extremely proud of this album; it has been quite a journey already for the two of us, but this is where it really begins. We have created something that is bigger than its individual parts. Now we are excited to see what the world makes out of our creation!"
To co-incide with the release of the duo's latest collaboration, 'Hardangar', on the same day, 'Skuggsjá' is now being given a lavish re-release, with completely renewed artwork and English translations of the lyrics (previously available only in long sold-out limited editions) by By Norse Music. And so onto the review:
First up, 'Ull Kjem' is very much in the style of neo-folk and is almost hypnotic in its progressions. It leads nicely into 'Skuggsjá' itself, with its delicate woodwind intro and ambient key washes. It is an unhurried piece leading the listener gently into the main body of the work with its powerful frame drumming and evocative extreme vocals. This is a spiritually huge track. Next is 'Makta Og Vanera (For All Tid)' and we are into, at first impression, a more traditional metal track, apart from the male vocal harmonies hung tantalising above it and building into a crescendo before diving into a spoken word break. All this is a prelude to the heavy pounding riffs that Enslaved do so well. Double kick drums drive the whole track through to the next harmonized section. It strikes me as a big audience participation anthem. It is all very inspired and glorious.
I wonder how 'Tore Hund' can possibly follow this. It follows by providing a huge ballad style with traditional instruments which offer far more than just a breathing space. It is equally epic in its own unique way. 'Rop Fra Røynda – Mælt Fra Minne' is again darkly atmospheric in its approach. Drones and pipes swirl and dance to the interesting percussions of the frame drums before, with a sudden drop, a bigger version of the main theme is introduced. 'Skuggeslåtten' has a medieval flavour to its guitar work. It is another great example of how what is essentially a metal track can sit comfortably with neo folk pieces. It is again a sizeable track of almost seven minutes in duration. This is a brilliant piece of folk metal that would probably do well as a single from the album. 'Kvervandi' uses soulful droned strings to introduce a lilting vocal harmonised track. Thoughtful interludes glue together bigger more imperious soundscapes.
'Vitkispá' is brooding and evocative of times past and I could just imagine the skulds, Viking poets, plying their trade in the Great Hall. It is an ingenious way of introducing the interestingly driving heroic main themes of essentially a prog metal piece. 'Bøn Om Ending, Bøn Om Byrjing' breaks the whole album down to almost a heartbeat with a mesmerising repetitive guitar riff leading into uplifting at times dark jazz prog inspired sections that still keeps a tribal edge and ends in an audacious prog peak. The final piece of the album is 'Ull Gjekk', a delicate guitar lead piece of only two minutes duration that acts as a palate cleanser to nicely close the album.
All in all, 'Skuggsjá' is an incredible collection of pieces of music that sit very well together as a progressive metal concept album masterpiece. It is well worth multiple listens and, if you are into Viking metal, will make a worthy addition to your collection.
'Skuggsjá' is released on 5 November. You can get your copy HERE.
www.facebook.com/IvarBjornsonEinarSelvik
All content © Über Rock. Not to be reproduced in part or in whole without the express written permission of Über Rock.