By Monk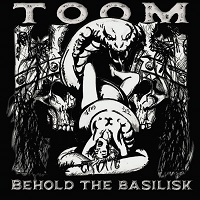 Back in 2007 three long-haired teenage stoner doom fans naturally drifted towards each other in the depths of rural Suffolk. Hoping to avoid drowning in the sea of mediocre-metalcore and emo-misery that surrounded them, Teddy-James Driscoll, Jus Smith and Jack Newnham formed TOOM. This band was a short-lived and unproductive beast, but a beast nonetheless; a heavy, growling, riff-laden beast. Within three years, it was all over, and the three had gone their separate ways – Teddy to join Telepathy, Justin teaming up with Purson and then Uncle Acid, and Jack to Old Man Lizard and Slabdragger: but, before they parted, they spent one bitterly cold, madcap January night in a studio, battling against the odds to lay down the only recorded evidence of their time together. And, finally, more than a decade later, the results have been defrosted and brought into the glare of the spotlight by those ever-discerning folks at APF Records.
At the time these four tracks were recorded, the ÜK sludge/stoner/doom was very much finding its feet, and was nowhere near the level it is today, where it has entire festivals dedicated to the genre as it exists in this corner of the Überverse. Future giants of the scene, such as Conan, were in a similar situation as TOOM: struggling to find outlets for their oppressive, claustrophobic style of music, which very much drew on the NOLA twist on the doom miens which, ironically, had been developed right here in the ÜK three decades earlier. So, it could be argued that TOOM were very much a band ahead of their time and, if they had stuck together, could be one of the titans of a sub-genre at which they were very much at the helm.
Well, despite attempts by the likes of the "woke" movement, you can't rewrite history and TOOM turned out to be an all-too-brief darkly burning candle in a world which wasn't quite ready for heaviness of the level they delivered. Fortunately, however, these tapes have been retained, in their rawness and unappropriated state of originality, retaining those senses of fury, isolation and desolation which the three guys felt at the time of laying them down.
The result is four tracks (three if you regard opener 'Snake Chalmer' as an instrumental intro, which it basically is) that are as dense and obsidian as they are energizing and vitriolic, as punishing as they are uplifting and rewarding. A secondary result is a fitting reminder of the all-too-brief career of a band which spawned three highly creative musicians who have gone on to carve their own niches in the genre, in their own distinctive ways. However, it does beggar the question as to what they could have achieved collectively had they stuck together…
'Behold The Basilisk' is out now. You can get your copy HERE.
All content © Über Rock. Not to be reproduced in part or in whole without the express written permission of Über Rock.