By Monk and The Dark Queen
It truly was a sight for sore eyes – one we hadn't seen in what seemed like forever. And, yet, there it was, in all it's majestic glory: a Marshall stack with that little red light glowing warmly in one corner (OK, I know it was a Laney head, but let's not let pedantry spoil the mood, shall we?). Which could mean only one thing: heavy fucking metal is BACK, loud and fucking proud… so, let's turn those amps up as loud as they will go and let the headbanging commence, shall we?
This co-headline gig had been on the cards since the pre-Covid era but, like so many other live events, had been postponed at least twice, resulting in the fact that Baleful Creed, who were originally supposed to fill the other half of the bill alongside Conjuring Fate, could no longer make it; but, there could have been few finer replacements that A Little Bitter, a band who like to pick and choose where and when they play live – and they could have made no better choice than this wonderful evening…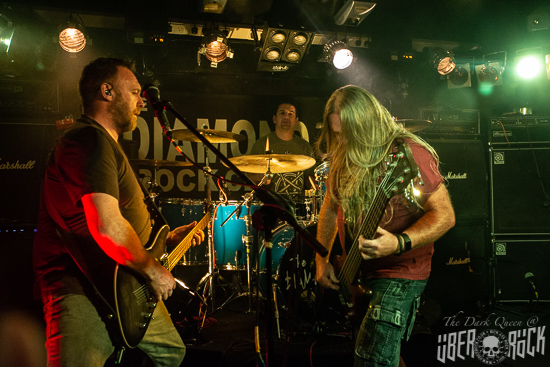 "Good evening. It's nice to back," declares guitarist/vocalist Jonny Armstrong, rather politely, before the trio launch into the slightly misnamed opener of 'Feathers', as there is nothing lightweight about the sound produced by these three guys. Rather, what follows is an hour of big, crunching, groovy riffs with tonnes of bottom end and energy levels turned up louder than the venue's volume levels. By the time they reach 'Arrows', the title track off their third album (and appropriately the third song in the set), bassist Seamie Donnelly's long white hair is flailing like a banshee in heat as they pummel their way through their hour-long set, delivering a sound that masticates between alt-rock and post-punk with a proggy edge: imagine the Foo Fighters jamming with the Manics and you're sort of halfway there.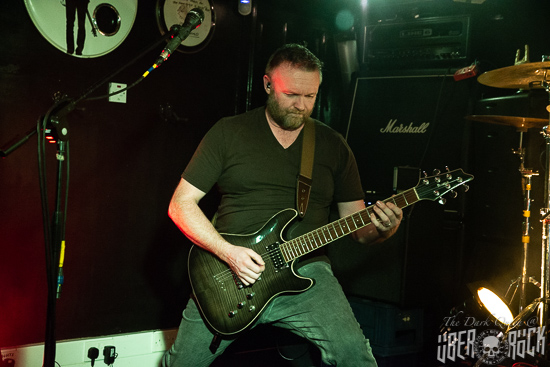 As the riffs tumble and flow over the infectious hooks and melodies like waterfalls over the cliffs of the nearby Glens of Antrim, it's a fairly "safe" set in terms of the track selection, with erstwhile favourites/staples such as 'Long Way Down', 'Battlesong', 'Genghis' and the ever powerful 'Further I Crawl' (complete with audience singalong) all delivered with aplomb, passion and precision as well as plenty of characteristic spit, verve and vim. A typically rowdy rendition of 'TNT' brought this eagerly anticipated return to a suitably welcome conclusion.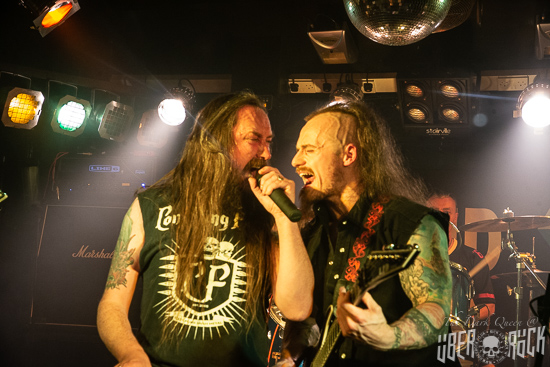 As with all the best laid plans, things are prone to go slightly awry at live gigs, and so Conjuring Fate have to deal with a few last-minute technical issues, the knock-on effect being that a few fans have to leave early to catch pre-arranged taxis, etc. But, when the quintet does take to the stage, they are very obviously feeding off a fiery hunger to be back on the twin-axe attack as, wreathed in red light and smoke, they immediately show that they're not fucking about with a hard-hitting and furious set.
Like ALB before them, it is a fairly predictable set in terms of its track selection, drawing heavily on 2019's 'Curse Of The Fallen': well, they only got to play a handful of shows to promote the opus before Covid closed the world down, so it is entirely understandable that the setlist should be weighted heavily its favour, with only 'Midnight Skies' failing to get a play through this evening. Of the non-'Curse…' tracks, 'Chasing Shadows' is as emotive as ever, while 'Mirror Mirror' (complete with the obligatory walkabouts) and 'Trust No One' emphasize their nigh-on essential inclusion in any Fate set.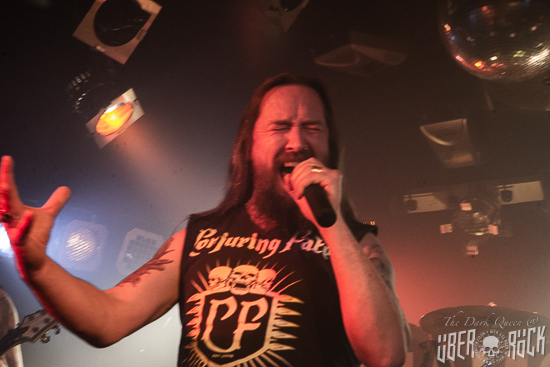 A great night in the company of two great bands who were obviously as hungry as us to turn up those amplifiers and shake the cobwebs from our collective skulls. Can we do it again soon? We can? OK then…
Conjuring Fate play the HRH XIV festival in Great Yarmouth over the weekend of 4-7 November.
PHOTO CREDIT: All photos © The Dark Queen/Über Rock. You can view our full gallery of photographs HERE.
All content © Über Rock. Not to be reproduced in part or in whole without the express written permission of Über Rock.