By Monk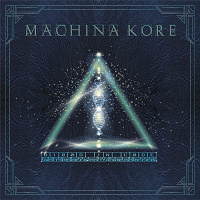 It could be argued that the emergence of Machina Kore from the darkness of the pan(dem)ic year that was 2020 is also the emergence of the band's constituent members from their own personal darknesses into a new and vibrant light. Two of the characters involved in this story will already be familiar to long-term ÜR readers, and followers of the Northern Ireland metal scene: for almost two decades, Gareth 'Moro' Morrow fronted Sinocence before apparently becoming disillusioned with his role in the band he had formed and quitting to plough his own furrow, while MK drummer Ben 'Blademan' Simpson filled the same band's drum stool during what could be regarded as the band's most aggressive, and musically fruitful, period in the latter half of the last decade, before in turn departing, this time due to a shoulder injury which left him unable to fulfill live commitments… But that is only half the story, as there are two other key players involved: and they are guitarist Shane Comac and bassist Sean Haughlan, both of whom, for separate reasons, have spent periods away from being involved in formal band set-ups: Hauglan in particular has been something of a musical nomad for more than a decade. But that was the past: this is the present, and the future beckons for this new project… so, what do Machina Kore have to offer?
The answer is the sound of a group of musicians hungrier than a pack of wolves with the smell of a stricken caribou in their nostrils. 'Blood In Code' is declarative. It is strident. It is energetic. It is forceful. It is uncompromising. It is thoughtful. It is challenging. It is melodic. It defies generic categorization. It is strident. And, above all, it is confident.
The opening intro of 'Wither' fittingly sets the scene, lulling you into a false sense of security, with its lilting piano and atmospheric tint, before 'Exile' pummels its way out of those speakers with one of THOSE riffs: you the know that sort… the ones that grab you by the balls, giving a bloody good shaking then bounce you off the walls and ripping straight into the darkest recesses of your soul, there to remain and grow until it consumes your entire being… You can feel the spit and venom dripping from Moro's lips as he snarls with all the fury his frame can muster, while the rhythm section of Blademan and Haughlan pummel home the message even further with that sense of laconicism that is so effective when delivered by musicians who know what they leave out is often more important that what is unnecessarily included…
'Footprint On A Death Mask' treads the sort of territory that will perhaps be most familiar to Sinocence fans, a mid-paced thrasher characterized by a snarling, broiling riff that wraps itself around your aural cortex like starved boa constrictor, while closer 'God From Machine' sees Moro once again exploring characteristic anti-establishment, anti-theistic lyrical territory, spitting his words into your face like he's standing right in front of you rather than distanced by the digital nature of the recording.
'Blood In Code' is a defiant statement of intent. A declaration that you really can't beat the pull of being in a band, and the satisfaction that getting together and producing music produces for those involved. A fierce and fiery return for all involved… now, let's get these guys some gigs lined up so they can rip our feckin' heads off…
'Blood In Code' is released on Friday (7 May). You can get your copy HERE.
All content © Über Rock. Not to be reproduced in part or in whole without the express written permission of Über Rock.