By Jonny Bakes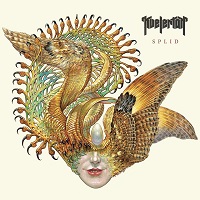 Kvelertak are another one of those bands that have always lingered just outside of my usual musical sphere, which is funny because every time I've caught the odd track, I've always enjoyed it! But then I managed to catch some of their set at Download last year, and that definitely grabbed my attention a little more so when I was offered to take a peek at their new album, I couldn't resist!
Kvelertak have been knocking around for well over a decade now, with three studio albums to their name, but 2018 saw a significant shake up with the departure of lead vocalist and founding member Erland Hjelvik. Naturally, the show must go on and a replacement was found in the form of Ivar Nikolaisen who had previously performed guest vocals on the track 'Blodtørst'. This latest album, 'Splid', is the first full length album to feature Nikolaisen at the helm, so let's see how things have turned out…
On first listen, it clearly has the usual Kvelertak sound with the blend of rock 'n' roll, punk and a little bit of fuzz that delivers a sound that's almost like a blend between QOTSA, Mastodon and Clutch at times. Speaking of Mastodon, we get a cheeky little cameo from the mighty Troy Sanders on 'Crack of Doom' which also happens to be one of the few English spoken tracks on the album, the rest being Norwegian as per usual. Nikolaisen's vocals are a pretty relentless stream of aggression that adds that extra edge to the upbeat and seriously catchy riffs that are present throughout this album.
The album opens with a lengthy instrumental introduction that builds the suspense before reaching a crescendo and the song 'Rogaland' really takes full form and beats you round the earholes with its simple, yet heavy riff. This leads us pretty nicely into 'Crack of Doom' which is quite clearly an obvious single choice from this album. It's got a stupidly catchy fuzzy riff, it's almost like the Chlamydia of riffs it's that catchy. Top this with the great contrast between the vocal styles of Troy Sanders and Ivar Nikolaisen and you've got yourself an easy single right there.
'Delirium Tremens' is a track that stood out to me as I went through the listing, mostly because of that delicious Belgium beer that has a habit of making me forget what happened the night before. Bit, it's not just the name that sticks out, as it is a pretty different track that shows a slightly softer side to Kvelertak. It's a pretty length number clocking in at over eight minutes and does have a strong whiff of prog metal to it. The drumming of Håvard Ohr is particularly impressive here with a whole host of tempo and signature changes. This may show a slightly softer side, but that's not to say that this track is mellow because it is anything but! There are several mood changes as the song progresses, hell it's almost as if this is a soundtrack to a night on the beers!
Considering this was the first outing with a new frontman, I had my trepidations about this album. It's never an easy feat to replace the guy who is a natural focal point, but I'd say that this has been a successful transition with Ivan's vocals fitting the music of this album pretty well. There's a good amount of variety, as you might expect from Kvelertak, with the odd strays into prog, blackened, stoner and much more. It's certainly worth giving a good go and if you're anything like me you'll find that songs are so catchy that you have to keep coming back to get rid of the earworms!
'Splid' is out now. You can get your copy HERE.
Kvelertak play Manchester's Academy 2 on Friday 20 March, SWX in Bristol on Saturday 21 March and Electric Brixton on Sunday 22 March.
https://www.facebook.com/Kvelertak/
All content © Über Rock. Not to be reproduced in part or in whole without the express written permission of Über Rock.