By Jason Walker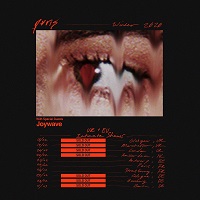 PVRIS have been an ever-present band on a lot of festivals throughout my 20s and have grown immensely over the years and finally at the ripe old age of 32, I'm finally able to catch them live in one of Manchester's more refined gig venues, Gorilla. Bringing along Joywave for the ride throughout the ÜK and Europe, I've seen from a couple of their other shows that they're definitely down for stage shenanigans and I can't wait!
Gorilla is an interesting venue that I've been to a number of times before, most memorably for Leprous and Agent Fresco, and I absolutely love the aesthetic here with its arched roof covered in corrugated metal sheeting. The venue is already quite busy long before Joywave are due on, something I'm always happy to see because I see skipping support acts as a massive injustice not only to the bands but to people as they may discover their next favourite band!
Joywave take the stage all dressed in white suits, a very striking uniform look which supports their synthpop style sound. I am immediately interested in this, what a bloody fantastic sound they've got going here – I'm actually kind of stuck for a band I can think sounds like this. Their singer, Daniel Armbruster, is decently funny with his between song banter, remarking on how last time they were in Manchester they played to about 10 people and spent a bunch of the show barfing into a bucket because he was so hungover.
I think the only real criticism in terms of sound is the bass is booming a bit loudly on some of their quieter passages but it's not a massive issue. Joywave blasts through a set that ebbs and flows from indie synth pop to erring almost into punk-esque territory, they've got a really interesting and varied sound that's ultimately quite pleasant to listen to, and in some cases reminds me a lot of Joy Division/New Order. I seriously didn't know what to expect from Joywave prior to this gig but I really have to say I'm thoroughly impressed with how tight they were and how great they sounded, if you have any remote interest in Synthpop then they've got a new album on the way at the time of typing this so get on that when it drops!
The venue is veritably packed at this point and I'm ushered ever closer to the couple next to me who seem to care little for the surrounding crowd interrupting their rather extravagant display of tonsil tennis. PVRIS step up slightly later than their anticipated start time and the crowd goes absolutely wild and man what a massive sound they're putting out here, I mean I love this venue's sound anyway but PVRIS are really making use of it. With the show they're putting on tonight, even so early into their set, it's clear why they're so popular.
Lynn's voice sounds unbelievably sweet at this show, for venues with low roofs like Gorilla sometimes I find that vocals can often sound a bit muddy or not as strong as they would do but she rings through fantastically. As for the rest of the sound, the balance is great and even in the face of a crowd that seems to know every word to every song, the chorus of voices only serves to enhance the experience. This is a great example of modern rock, one that's not afraid to rely on some synths or samples but not overuse them for the sake of it and the atmosphere it builds is one that lets you get lost in the euphoria of it all.
I truly enjoy seeing crowds that are so engaged with the music, the centre of the crowd is bouncing, a sea of raised arms and bobbing heads that enthusiastically shout back the words to every song without fail. Lynn barely needs to engage the audience because they're so bloody up for it in the first place they're going wild in response to the music anyway and she's clearly loving that. At one point someone throws up the pride flag which Lynn proudly props up on the mic stand, "This is what I like, everyone is welcome at a PVRIS gig, unless you're an asshole" which elicits cheers from the audience.
So far, this show has been absolutely sublime, I'm super pleased that I've finally been able to get along to one of their shows – and where better to do it than the beating heart of music in the north of England? The vibe at this show is incredible, there's not a single face here without a smile, phones randomly popping up to record their favourite bits, people passionately shouting the lyrics, this is the ideal sort of show. These are the sorts of shows people should attend to really diversify their music tastes, PVRIS are really doing some special stuff and this is one of the most welcoming and pleasant crowds I've ever been stood in barring maybe Pale Waves – I don't care if you're a staunch metalhead or hardcore punker, you should see PVRIS live.
The tour finishes at Electric Brixton tonight (Thursday 20 February).
All content © Über Rock. Not to be reproduced in part or in whole without the express written permission of Über Rock.