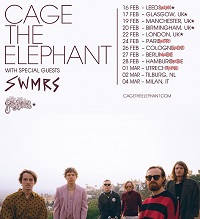 Another trip to Manchester sees me take in Cage The Elephant for the first time, accompanied by Chicago's Post Animal and SWMRS from California, in Manchester's O2 Victoria Warehouse, also my first time at the venue. Train delays are once again the norm, though I manage to arrive just as Post Animal take to the stage.
Hailing from Chicago, Post Animal are a highly melodic psych pop act with progressive tendencies, and I am enchanted pretty much from the get go by their melodious soundscapes. The large room is very busy and those around me seem even more enthralled than I am – I have to take my notes for this review after all! There are signs even early on in the set of people starting to sway to the music and their luxurious melodies, both vocally and musically make for an excellent start to the evening's proceedings.
California feminist collective SWMRS up the ante somewhat, being a somewhat punk-infused rock 'n' roll noise and something more akin and just as awesome to the party as Cage The Elephant themselves. Cole is a relentless machine as a frontman, demanding the crowd part for some pit fun in only the second song even, while soon after making comment about wanting women to feel safe at the gig – something some other bands could maybe learn from at other gigs. The technical ability of Joey on drums is something I pick up on quite quickly, as although all band members are clearly adept at their instruments, having an almost side on view to him allows me to appreciate just how agile around his kit, minimal as it is, he is. A cover of Supergrass' 'Alright' goes down well, after Cole gets everyone to crouch then bounce, as do their own songs, garnering much deserved applause throughout the set. An excellent warm up, getting us right in the mood for our headliners.
Crowd surfing, bouncing, loud sing alongs and a chilled-out atmosphere – Cage The Elephant really have brought their A game tonight. A room full of positivity, of happiness and just an overwhelming feeling of belonging is the least of tonight's takeaways from the gig, but man, are the feel good vibes strong! People of different backgrounds, social groups, all joined as one – music sure is a hell of a motivator for people to behave better, however temporary it becomes. While Cage The Elephant don't have that same punk infusion of SWMRS, they have plenty of energy in their own right with Matt and Brad nonstop around the place, Matt especially must cover almost every inch of the stage a thousand times over. We even get some bits of pyro, which admittedly takes me by surprise at first, as I'm taking notes as it first starts up! The lighting show, worked with the fairly dense fog fluid, lends itself well to the performance, adding that bit extra to the atmosphere and creating more of an all-round show.
No Cage The Elephant set is going to be complete without the blues-drenched 'Ain't No Rest For The Wicked' and 'Trouble', though the sheer enjoyment of the crowd is as palpable throughout the set as it is for either of these, while 'It's Just Forever' comes in right after 'Ain't No Rest…', getting everyone around me bouncing after the big singing session of the previous track. 'Come A Little Closer' gives us another massive sing along, hands in the air – for those that don't have people sat on their shoulders, of which there are many! – and there are so many moments that are genuine hairs stood on end, for different reasons, that it genuinely becomes difficult to pick just a couple to mention here, beyond the above mentioned tracks, though that same uplifting atmosphere is an almost ever present throughout the Cage The Elephant set. A fantastic performance from a genuinely top-level touring band, to be the icing on the cake for a top notch bill.
The tour continues at the O2 Academy in Birmingham tonight (Thursday 20 February) and finishes at London's Alexandra Palace tomorrow (Friday 21 February).
All content © Über Rock. Not to be reproduced in part or in whole without the express written permission of Über Rock.