By DJ Astrocreep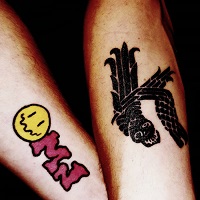 Kurokuma are a band I've been fortunate enough to catch live on several occasions now, though I seldom seem to find the opportunity to listen to them otherwise – always another album to listen to and cover or other such reasons. The Sheffield sludgers are finally beginning to make the waves their music deserves, then bam – a new EP into the inbox.
A four track EP is certainly not a bad way to be introduced properly to their recorded material and opening track, 'RVN' perfectly illustrates the contrasting sides of their nature, with the more space rock sounding opening instrumental to the track easing you in, before their rather more abrasive side comes out with some pretty in your face vocals and mountainside sliding riffs coming more to the fore for the last third of the track.
The lads are going from strength to strength, judging by the sheer power and ferocity of the 4 tracks laid out on this EP. Ranging from two and a half to almost ten and a half minutes, there is a deal of difference in the writing, with the longest track, 'Deeper Underground', being somewhat more in the nature of their previous sludgier tracks, while losing none of the power associated with the bands burgeoning reputation on the live scene.
Without any real faults, in terms of what they have set out to do here and previous, at least, it's a very good EP and showcases just what the Sheffield lads bring to the table with their music – a screeching sonic guitar attack, riffs that sound like they will grind your balls off at the merest hint of a speaker over 10 watts and some angry vocals that all sit well alongside each other. Their softer end also peeks out a couple of times, with their space rock shimmering through, though not in a way that detracts from either side, coming over more like a sludge version of The Pixies/early REM's loud/soft style, in a way that provides excellent contrast.
'Sheffield's Best Metal Bands Vol 1' is out now. You can get your copy HERE.
Kurokuma hold a EP launch party at Steel City Print next Friday (17 May) and then play The Rumble At Rebellion, with Mammoth Weed Wizard Bastard, on Saturday 18 May.
All content © Über Rock. Not to be reproduced in part or in whole without the express written permission of Über Rock.