By David O'Neill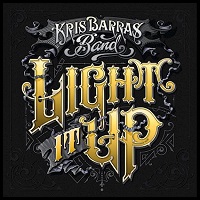 The Kris Barras Band have been rising rapidly over the past few years and rightly so. The ex MMA fighter is a superb talent with a good vocal range and guitar playing to boot. After a recent headline tour of the UK and Europe the follow up is planned for next month supporting this latest release. On top of this being announced as the lead for Billy F Gibbons Supersonic Blues Machine, this guy is in serious blues rock royalty company.
The second album follows rapidly on the heels of 'The Divine and Dirty' and was written mainly during downtime on the tour late at night by Barras himself.
Despite this, his band are no mugs either: Elliott Blackler is a bass machine, and who drives the rhythm section well with Will Beavis.  The real blues treat though is the further re-emergence of the Hammond Organ that I first commented on with King King: again, Josiah Manning is expertly tickling the blues ivories as well as being the producer of the album.
It's 13 tracks of more of the same as 'The Divine and Dirty', but the obvious influences on that album are much more subtle on this one.  There is not such an obvious Steely Dan influence on this one as there was on the first album.
The first single, 'Ignite (Light Me Up)', did itself proud on Planet Rock but this is probably not the best track on the album: I think this is possibly '6am', but there's not a bad one anyway.
Many of the tracks are based on experience: all the lyrics are well written and you can hear why the songs have been written and what Kris feels about some of his experiences with a variety of people: and there are also some superb female backing vocals on them all. 'Rain' is reminiscent of several King King tracks but that's possibly the Hammond Influence on the track. 'Let the River Run Through You' is carried along by catchy rimshots throughout that really give it that southern blues rock feel. 'Bullett' has a really solid riff that picks it up, drops it then picks it up again but the rhythm section help carry the song along.
Whilst there is no effort to reference particular musical genres, this is firmly in the blues-rock genre in all its divine and dirty glory. There are similarities to the first album, nowhere more so than in the middle section of 'Vegas Son', which reminded me of my favourite track from 'The Divine and Dirty' – 'Propane' – but other than that they are only passing similarities.
If you liked 'The Divine and Dirty' then you'll need to add this to your collection too.
Kris Barras band are currently touring the UK before he heads off with Billy Gibbons: support good live music and get along to see him – you won't be disappointed.
'Light It Up' is released tomorrow (Friday 13 September). You can get your copy HERE.
Kris Barras Band play Steelhouse Live, with Bernie Marsden, at the Tramshed in Cardiff tomorrow (Friday 13 September), and then the following dates in October:
Saturday 5– Norwich, OPEN (with Walter Trout)
Thursday 10 – Chester, Live Rooms
Friday 11 – Newbury, Arlington Arts
Saturday 12– Sheffield, O2 Academy 2 (with Walter Trout)
Sunday 13– Bristol, Fleece
Tuesday 15– Bilston, Robin
Wednesday 16– Southampton, 1865
Thursday 17 – Exeter, Phoenix
Friday 18 – O2 Academy Islington,
Wednesday 23 – Glasgow, Oran-Mor
Thursday 24 – Stockton, Arc
Friday 25 – Manchester, Academy
Sunday 27 – York, Fibbers
Tuesday 28 – Dublin, Whelans
Wednesday 30 – Belfast, Empire Music Hall
Tickets for all shows are available from all usual outlets.
www.facebook.com/krisbarrasband
All content © Über Rock. Not to be reproduced in part or in whole without the express written permission of Über Rock.