By Jim Rowland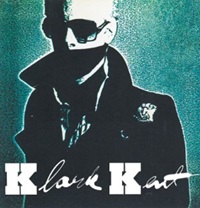 Between 1978 and 1980, Klark Kent wasn't the alter-ego of Superman, but rather that of The Police drummer Stewart Copeland, who released a series of singles and an album under that name, making him the first member of The Police to release solo material. That material is now all bundled together on a new self-titled release, including several previously unreleased tracks too.
All of this Copeland material was recorded entirely by himself, playing all the instruments and singing too, but in order not to disrupt the career of The Police, which at the time was an emerging band, Copeland chose to record under the pseudonym of Klark Kent. This collection brings together newly remastered versions of all the original non-album singles, the full 1980 self-titled album, plus a few later recordings and two previously unreleased studio recordings.
It's good stuff too with, perhaps not too surprisingly, the likes of the excellent 'Don't Care' (a top 50 chart hit), 'Rich In A Ditch', 'Guerilla', 'Old School' and 'Office Girls' not being too far away from the pop/punk sensibility of the early Police material, which was of course recorded around the same time.
Although most tracks have Copeland's vocals, 'Grandelinquent', 'Kinetic Ritual' and 'Office Talk' are all excellent instrumentals highlighting that aside from being an outstanding drummer, Copeland was a pretty adept multi-instrumentalist even in those earlier days. Of the smattering of post-1980 material, 'Love Lessons' echoes the musical progression The Police made after their first two albums, whilst the questionable Christmas song 'Yo Ho Ho' is the only real black mark here. Both the previously unreleased studio recordings added here are decent, with 'It's Gonna Rain', which opens the album, being particularly fine.
If you opt for the double CD or digital download versions, you get a second disc of 12 previously unreleased demo recordings of the early singles and the original album tracks, but be warned these are not studio pre-production versions, but rather proper old school four-track cassette recordings with a primitive drum machine. Whilst of interest, you may not be playing those versions too often. If you don't fancy that, there's a nice double vinyl edition without the demos.
All content © Über Rock. Not to be reproduced in part or in whole without the express written permission of Über Rock.