By David O'Neill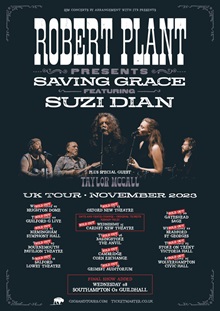 The demise of St Davids Hall to the RACC controversy has seen the rapid relocation/cancellation of many planned events. I have to say I thought this was going to be one of them. Thankfully, the New Theatre stepped into save the day. 
The last time I was here was for a pantomime with my kids, so it was a few years ago. Nonetheless, sometimes you have to grab the nettle to be in the presence of a bona fide legend. Whilst the music is a very eclectic mix from the reviews I have seen, apparently the voice hasn't changed. My only regret was never seeing Queen live so when you get an opportunity like this there is no time to regret it again.  Will I regret this tonight? We shall see. Legends eventually stop touring (unless you're as preserved as the Rolling Stones!) 
The support saw us treated to some deep south blues acoustic guitar and kick drum, courtesy of Taylor McCall from Greensboro North Carolina. Half an hour of deep south country varying from acoustic to electric guitars, but all similar in style. It was an interesting start.  
When the main act came on there was rapturous applause.  
Kicking off with 'Gospel Plough' gave everyone an idea this was not going to be a Led Zeppelin tribute. However, there were aspects and tracks littered through the one hour 45 minute set. 'Friends' was particularly well received as was 'Gallows Pole' towards the end.
Each member of the band contributed a significant amount to the concert. At one point the red hollow body guitar of Tony Kelsey had an absolutely fantastic tone. There were significant interjections of superb banjo and mandolin playing by Matt Worley and his deep baritone voice provided a hall-filling counterpoint to the higher registers of Robert Plant and Suzi Dian.  She was no slouch either, not just providing harmonies but also solo vocal performances; she is no mean accordion player either, especially providing the background fill to 'The Rain Song'.  
Was this worth it? Very definitely, as long as you go open-minded and have an eclectic taste in music. Did I regret it? Non, je ne regrette rien!

All content © Über Rock. Not to be reproduced in part or in whole without the express written permission of Über Rock.