By Monk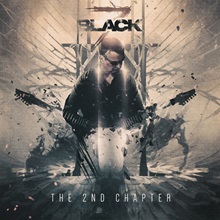 I first came across the monicker Black 7 almost exactly two years ago, when we were invited to 'Look Inside' the musical mind of German guitarist Lars Totzke with his debut solo album. At the time I admitted – and will freely do so again – that I'm not a massive fan of instrumental albums, not being the sort of thing I tend to sit down and listen to out of choice.
Like classical music, I tend to view instrumental albums as background soundtracks to other aspects of life, such as researching my book (out next summer folks and folkettes), because your concentration on such matters is not interrupted by having to do the same in regard to lyrics and meanings. But, I had to admit that, for the 70 minutes of that debut opus, my life temporarily stood still…Will this, the second chapter in Totzke's story have the same effect?
The simple answer is yes, as 'The Second Chapter' picks up Totzke's story almost exactly where he, and we, left it off back in 2021, albeit with its creator in a much darker, more melancholic mood, which in turn emphasizes the growing confidence of the author/composer both in in terms of his artistry and composition but also as a deliverer and performer of same.
Opener 'Driven' lives up to its title, a powerhouse of a crunching riff underpinned by the sense of dense gothic symphony which Totzke is quickly making a trademark of his sound. 'In This Moment' sweeps and soars around you like a flight of fallen angels looking for a resting place, while 'Push' punches and pummels with suitable heaviness, but still displaying levels of virtuosity that impress with their cohesion and thoughtfulness.
This is not a question of "how many notes can I cram into each bar?". It is a question of "how can I make these notes resonate and sing?" And the latter question is answered on the likes of 'Tortured Souls', which opens with a folk-era Blackmore-ish interlude before opening up into the sort of classically-inspired fret board extrapolation we have come to expect from the likes of Satriani, Vai etc. Later, penultimate track 'Dark Hope' blends a dank, dissonant Wagnerian piano thump into an otherwise cascading and enervating series of guitar workouts, which at the same time are underpinned by an effectively laconic main theme that just pulls you into the depths of its mysterious power.
'The Second Chapter' is a more than impressive sequel to its opening volume. As I said, it demonstrates an artist growing in confidence. It also shows an artist using that confidence to push his boundaries and his abilities to the maximum. An artist prepared to let the material cut its own cloth, and for him to let the resultant suit him. And suit him it does. Totzke is not afraid to explore the boundaries of the miens on his musical atlas, and to push himself beyond those boundaries, blending elements of power metal and gothic industrialism with totally OTT symphonic histrionics, but all in a way which works with cohesion and homogeneity, something which summarizes the overall effect of this accomplished and declarative album.
The Second Chapter' is released on Friday (17 November).
facebook.com/Blacksevengermany
All content © Über Rock. Not to be reproduced in part or in whole without the express written permission of Über Rock.