By DJ Monk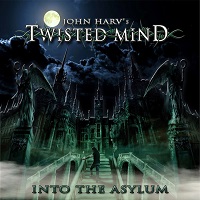 John 'Harv' Harbinson is possibly one of the most distinctive, and arguably divisive, figures on the Northern Ireland metal scene, having been at its very heart (and also, on occasion, skirting around its periphery) for around the same length of time as myself (and that's a lot of fucking years). A man known for a personality as big as his voice, for the past decade he has been best known as the frontman of power metal purveyors Stormzone, with whom he has helmed six studio albums. Now, some four decades into a career that has probably earned him as many haters as fans, he stands poised to release his first ever solo album – which, given the power of Harv's personality, some wags had commented should have been entitled 'The Ego Has Landed'!
Many artists take the opportunity to use solo albums to move out of their perceived comfort zones and into territories they cannot otherwise explore within the confines of a band set-up. Not Harv. 'Into The Asylum' is an album which remains very firmly implanted in the roots of the music with which he grew up and established himself – classic rock and power metal. And it could be argued that the shadow of Stormzone also looms large over the opus, especially as it features contributions from all four members of the band's current line-up, including guitarists Steve Moore and David Shields, alongside two of the group's former shredders, Keith Harris and Andrew Baxter.
While the album is billed as featuring songs which "did not fit into the band context", quite a few of them arguably could do so: but, that's perhaps inevitable, given how closely Harv has been intertwined into the band's fabric throughout their career. For proof, you have to look no further than the opening title track, with its typically bombastic power metal intro and rapid fire riffology, which also sees the singer casting his eye over his shoulder back to his early career in bands such Den Of Thieves, who in turn helped shape the sound that Stormzone have adopted in more latter years. Another prime example is the lead single, 'Hammerfall', which should turn the Swedish power metallers of the same name green with envy:
The Stormzone connection is further emphasized on two tracks,  in the form of reworkings of 'Coming Home', originally recorded for the 'Zero To Rage' sessions but left off the final album to be later released as a stand-alone YouTube only single and given a much heavier treatment here, and a mostly acoustic version of 'Beware In Time' from the 'Three Kings' album: the latter is a deeply personal song to Harv, written about the death of a close family member, which makes it a poignant way to close out the album.
Of course, he does push the envelope and there are a good few songs which fit the album's billing: 'Wolf At Your Door' has a sub-thrash feel to it, the aforementioned 'Hammerfall' does slightly fuck with the Stormzone formula with the inclusion of keyboards, again referencing his days with Den Of Thieves, while 'Tyrannosaur' and 'Beating Of A Heart' again see Harv winding the clock back to the beginning of his career with two slices of pure AOR cheddar, ripped straight from the '80s playbook of Steelheart, Survivor and their ilk, and just bleed Emerald blood. And then there's the ubiquitous power ballad, 'Blood And Tears', with its piano and orchestration, or the pummelling beatdown of 'Apocalypto', with its searing guitar trade-offs and furious blastbeats.
Overall, 'Into The Asylum' is not an album showing a singer striving to carve a separate identity, but one which provides further insight into the (twisted) mind of its creator. Yes, it doesn't stray too far from the path which Harv has been treading for many years, but it doesn't need to. Neither does it live it up to its PR blurb as a collection of songs that "did not fit into the band context", as there is no feeling that any of these songs are cast-offs, but fully alive and breathing entities in their own right, which have merely been biding their time looking to emerge into the daylight.
'Into The Asylum' is released on 25 October. You can get your copy HERE.
All content © Über Rock. Not to be reproduced in part or in whole without the express written permission of Über Rock.