By DJ Monk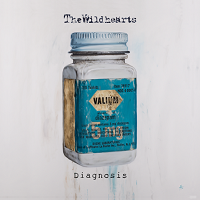 Well, damn the gods of rock 'n'f'n' roll… Not only did The Wildhearts go and release their first album in ten years – and one which lived up to its title, 'Renaissance Men', by showcasing a band very much in the resurgence with an opus that many regarded as their strongest since their iconic 'Earth vs…' – but now they've only gone and headed straight back into the studio to record another clutch of quality toons.
Having ripped the mighty Bloodstock festival a new arsehole with a truly show-stopping performance over the summer, it could be argued that Ginger, CJ, Rich and Danny are at height of their powers, both creatively and live – and 'Diagnosis' is further, fist-raisingly defiant proof of this former assertion.
The EP kicks off with the title track, which of course was one of the pivotal moments in helping 'Renaissance Men' emphasize The Wildhearts as the truly renascent rock 'n' roll force they have become over past year or so. It snarls, it snaps, it twists and it winds its way into the darkened recesses of both your aural cortexes and your darkened soul: it's more infectious than a dose of clap in a Cheapside whorehouse, and punchier than a cornered Tyson Fury with the taste of blood in his mouth.
Then 'God Damn', they knock you to the floor with a furious one-two of an opening riff, then pick you up, dust and down and demand you put on your finest dancin' boots as it twirls you around the living room with a massive wicked grin on its face and one of the finest grooves you'll ever hear. 'A Song About Drinking' is a pure punk rock riot: sheer bedlam in an uncorked bottle, with a spark and energy that defiantly shows Ginge and co don't give a flying elephant's fuck – they just wanna have a good time playing rock 'n fuckin' roll… and that's exactly they're doing.
The momentum doesn't let up with 'The First Time', and, I tell you what, it lives up to its title, as this is like the first time you ever heard punk 'n' roll and screamed "what the absolute fuck is that" at the top of your lungs: joyous mayhem that has you reaching for both the volume and repeat buttons simultaneously. "There's a fire inside and it ain't going out again," declares Ginger: too fuckin' right, as this is the sound of a band with a rediscovered energy to crank up the music both they and we love. 'That's My Girl' just continues the theme of ecstatic rambunctiousness, with a beautiful rolling riff that just grabs you by the balls and doesn't let go, while closer 'LOCAC' echoes Ginger's Mutation project in its dense, industrial feel, showing that The Wildhearts still aren't afraid to push the envelope as far across the table as possible without it falling off the edge.
Our final diagnosis? The Wildhearts are definitely, and defiantly, at the top of their game, and setting the bar high for all the pale imitators. Rock 'n' roll is alive and kicking and displaying a "fuck you" attitude which both this EP and its precursive album exemplify in spades. Join the party.
'Diagnosis' is being released as a limited edition special white vinyl with pale blue powder splatter 10" (to look like a pill) and as a regular black vinyl 10″ and CD.  All three physical formats will also include an exclusive bespoke inner gatefold comic strip illustrated by the award-winning Hunt Emerson, who last worked with the band on the 'Earth vs…' cover and their classic logo. Tell ya what, mofos, why not spoil yerselves, and The Wildhearts, and click the link below and buy all three versions?
'Diagnosis' is released on Friday (4 October). You can get your copy HERE.
The Wildhearts return to the road this coming Saturday (5 October), with dates as follows:

They then head out on a co-headline tour with Backyard Babies next January/February: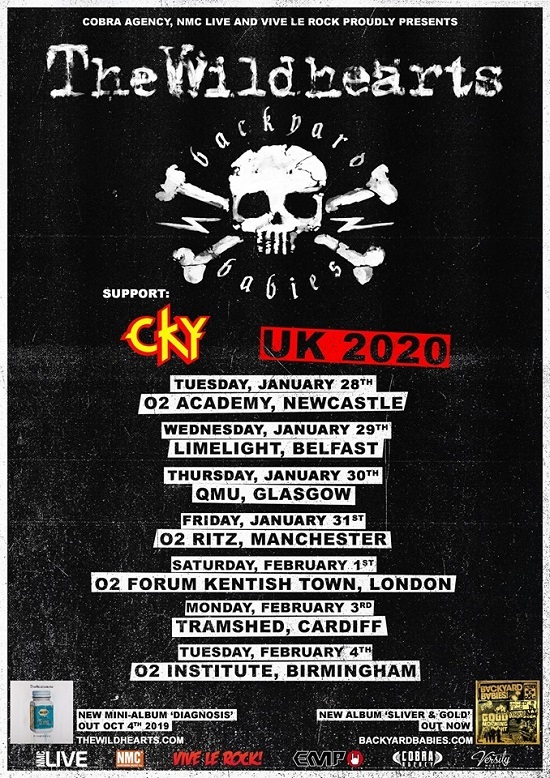 www.facebook.com/TheWildhearts
All content © Über Rock. Not to be reproduced in part or in whole without the express written permission of Über Rock.