By Juan Pablo Mazzola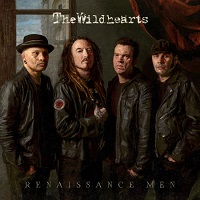 They are back! I can't stop listening to the new Wildhearts album, 'Renaissance Men'. I know I'm saying this from a fan perspective, but… they are really the best band of the last 30 years!!!
The albums kicks off with the very Motörhead like 'Dislocated'. This is Wildhearts doing what they do best, that nutty mix of '80s trash metal and power pop in the chorus (provided by CJ, which takes me to his solo stuff, always sunny), the song also features a slower part in which Ginger says "that life was everything that she could take, she said don't leave me alone…" almost in a reflective mood. Brilliant choice to start an album: trashy, poppy, it's sad and it's insane. So, it's definitely them, NO DOUBT ABOUT IT!
'Let Em Go' is a very British punk rock anthem, the one you can picture at a football stadium, it's filled with honor and you can tell they are proud of the result, of course it was also going to sound like classic trash/hardcore punk rock. "Let 'em go, let 'em go, let the shit-filled rivers flow": just epic. This is album is so good that I'm struggling to come up with the right words, ha! 'Fine Art Of Deception' is a love gone wrong song, and the lyrics (as they usually are with them) are pretty fucking clever: "I'm keeping a secret alive, it's the fine art of living a lie". After a long classic rock intro the best of riffs pops out in 'Diagnosis', a song about how fucked up the system is and the unfairness of life.
'My Kinda Movie' seems to remember us about how much Ginger loves films and how much of a mess he was when he was younger, and 'My Little Flower' is another example of classic Wildhearts sound with pop and metal mixed. Actually, the blend of their voices, always hypnotic, is such a gift from punk rock heaven. Such is the case in 'Emergency (Fentanyl Babylon)'. 'My Side Of The Bed' is an awesome reflection on how we see the world when we are kids, of course, expressed through riff explosions and a visible tribute to American rock music, also with a clever warning '"you know that it's full of cunts down there".
The album ends with 'Pilo Erection': one thing that I loved about some of the lyrics here is the social consciousness on women's rights and their daily drama with cunts everywhere… "I know that I don't know you, I'll never want to own you" is beautiful thing to say. Again.
My favourite band is back and they have a brilliant new album!
'Renaissance Men' is out now. You can get your copy HERE.
www.facebook.com/TheWildhearts/
All content © Über Rock. Not to be reproduced in part or in whole without the express written permission of Über Rock.