By Rich Hobson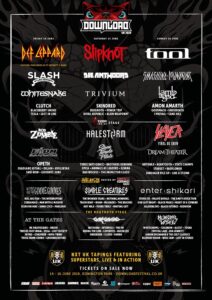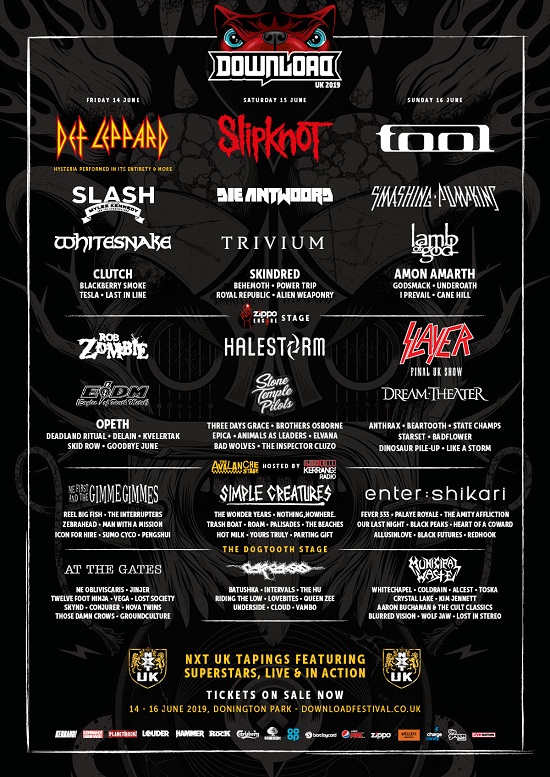 It's that time of year again, where we bust out the wellies and sun-cream (just in case!) and prepare to descend on Castle Donington for a weekend of musical greatness. Download 2019 looks set to not only feature performances by some of our world's biggest and best names, but also give a much-needed bump to some of the emergent stars of the future. With that in mind, here is the final day of our Über Rockin' Guide to Download Festival 2019…
The event booking of Download 2019 surely has to be progressive metal legends Tool. The band haven't released an album – or played the UK, for that matter – since 2006, but the past 13 years haven't dulled fans' desire to see one of our world's most distinctive acts make a triumphant return. All eyes will be on Tool to see if they can match the majesty they achieved in previous appearances, whilst for some this will be an introduction to a band who stand apart from literally every other act in the game. Of course, Tool aren't the only band who'll be generating excitement come Sunday…
Black Futures (Avalanche Stage)
In blending electronic and rock music, what Black Futures do isn't necessarily new. However, when you consider this is a band that doesn't dial down either aspect you start to see why Black Futures are generating such buzz, especially considering each of their songs already feels massive enough to fill an arena even before they have released their debut album. With that release looming on the horizon ('Never Not Nothing', out 30 August), this is a prime opportunity to get in on the ground level for a vibrant new band.
FFO: Chemical Brothers, The Prodigy, Massive Attack
Amon Amarth (Main Stage)
It seems pretty unlikely that any band approaching the 30-year mark can suddenly achieve success as one of metal's hottest properties, but that's pretty much where things stand for Amon Amarth. Granted, the band haven't exactly existed in obscurity, nor has their success been anything less than the realisation of some incredible hard work ethic and one of the greatest stage shows going. Since the last time Amon Amarth played they have headlined Bloodstock and made their stage show bigger than ever before, so their return to Download promises to be very special indeed.
FFO: Ensiferum, Dream Evil, Enslaved
Black Peaks (Avalanche Stage)
With 'Statues', Black Peaks laid down the gauntlet to be recognised as one of Birtain's best alt metal acts, their sound offering a mixture of Deftones, Tool and Dillinger Escape Plan in its ethereal, angular majesty. Returning to Download on the back of 'All That Divides', the band are looking to consolidate this position by laying down some seriously mind melting anthems, melding a proggish sense for imagery to the thuggish beatdowns of post-hardcore. If you're looking for the perfect way to expand your mind before Tool come on, you can't go wrong with Black Peaks.
FFO: Deftones, Tool, letlive.
Smashing Pumpkins (Main Stage)
Smashing Pumpkins made a triumphant return to the UK last year with a special show at Wembley Arena, marking the first time that the (majority of) classic line-up had played together in almost two decades. Following that with the well-received 'Shiny and Oh So Bright Vol. 1' it seems the band are firmly back to re-establish themselves as leaders of the alt rock scene, with a sound and image which has seldom been replicated but often stokes the flames of inspiration. Quite how the intimacy of songs like 'Disarm' will go down in an open-air field remains to be seen, but the band's biggest moments are sure to set it all off.
FFO: Pixies, The Cure, A Perfect Circle
Slayer (Zippo Encore Stage)
Billed as their final ever UK performance, the end of Slayer is a bittersweet occasion. On one hand, it is one last chance to see the band as they put on one of the most vital performances in decades, accompanied by the kind of stage show that perfectly illustrates why Slayer are one of the most influential bands in our world. On the other, it represents the curtain closing on more or less the only extreme metal band to still bring massive crowds to arenas, having stayed within the boundaries of the underground long after their contemporaries had opted for a more mainstream approach. Either way, this show is one not to be missed.
FFO: Xentrix, Judas Priest, Power Trip
So, there you have it. Our guide to who we think are the "must see" bands over Download weekend. Some of you will agree with our choices, others will vehemently bitch about them. But, that's rock 'n' roll and we love it… whatever way, see you in the pit!
All content © Über Rock. Not to be reproduced in part or in whole without the express written permission of Über Rock.