By Jonny Bakes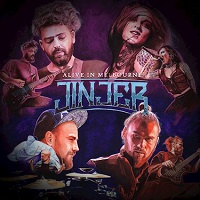 Let's face it, 2020 has been just a little bit shit with everyone having their lives severely disrupted, especially within the music industry. One of the bands that must be really feeling robbed by the whole situation is Jinjer for whom 2019 was a massive year where their hype train was gaining some serious momentum on the back of their latest album 'Macro'. This resulted in many people (including myself) making a note to check them out on their next ÜK tour but then everything went tits up and we'll all have to wait a bit longer to be able to catch Jinjer on stage.
Have no fear though as the band were savvy enough to record one of their last gigs back in March so that you can at least get part of the experience to scratch that itch for now! Filmed in Melbourne, Australia, this show was one of the first (and unfortunately last) shows of their extensive 'Macro' world tour and was recently streamed in full as part of the Knotfest.com series. While it's great that we could have a one-off streaming of the video, this show was really calling for an audio release too! So here we have it, in its entirety and available on CD and some pretty sexy looking coloured vinyl.
I'm sure you'll remember one of the attention-grabbing features of Jinjer is the insane vocal talent of frontwoman Tatiana Shmailyuk who manages to sound like two completely different people. If you've ever questioned whether she sounds just as impressive live then this album will answer that question pretty quickly for you – the answer is absolutely! She seamlessly switches between growls so harsh, that they sound like a result of a demonic possession, to clear melodic vocals in a way that doesn't seem possible. It's not all about Tatiana though and the rest of the band constantly vie for your attention with an incredibly tight performance.
Jinjer's music is pretty complex to say the least, sitting firmly in the prog/djent genre, and requires some serious coordination to pull off in a live performance and it's clear that these guys are all on form for this performance! Roman lays down consistent complicated riffs that sound as close to the album recordings as you can get while Eugene and Vladislav absolutely nail those ridiculous polyrhythms. 'Alive in Melbourne' is a really clear recording which allows you to pick out all the individual elements so you don't miss a single note of this performance from a band who clearly have no intention of slowing down anytime soon.
The setlist is naturally pretty biased towards Jinjer's more recent releases with the majority of the set consisting of tracks from 'Macro', 'King of Everything' and the 'Micro' EP. In fact, it's only 'Who's Gonna Be the One' that manages an inclusion from the band's first full-length album (which was re-released in 2018 after the success of 'King of Everything'). There's plenty of fan-favourites in the set though, from the awesome opening of 'Teacher, Teacher!' through to the encore of 'Pisces' and 'Captain Clock' that gave the sell-out crowd in Melbourne plenty to shout about.
After listening to this, I'm definitely feeling a bit more alive, but it's also left me desperate to get out and see Jinjer in the flesh. So instead of scratching my itch for some live music, it's actually made it worse! But you know what? That's fine by me. 'Alive in Melbourne' is a great live album and a very clear reminder that Jinjer are still set on taking over the world and have the talent to do so! If you don't believe me, then I guess you'll just have to get yourself a copy on Friday and find out for yourself…
'Alive in Melbourne' is released on Friday (20 November). You can get your copy HERE.
Jinjer are scheduled to play Bloodstock over the weekend of 11 – 15 August 2021.
www.facebook.com/JinjerOfficial
All content © Über Rock. Not to be reproduced in part or in whole without the express written permission of Über Rock.