By Jonny Bakes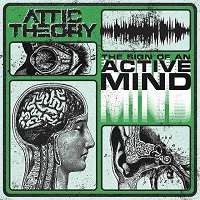 Seeing as I've been pretty sedentary for the last few months, maybe I should do some searching to find out how to re-engage my brain instead of wallowing away. As luck would have it, I've stumbled across this mini-album from local(ish) lads Attic Theory – 'The Sign of an Active Mind' which I'm hoping will give me the kickstart that I need!
Attic Theory were born from the ashes of several Liverpuddlian bands and have been causing quite a stir this year by picking up the 'Best New Band' award at Planet Rock's 'The Rocks 2020' awards. So it stands to reason that they should be a little bit alright! With a sound that promises to be seriously grungy with rock 'n' roll charm, it certainly seems like it could be my kind of thing, so I had best dive into this debut EP full of potential!
Well, this EP wastes absolutely no time in getting up to speed and launches with a track that kicks harder than Jean Claude Van Damme! 'Marionette' has a gutsy rock 'n' roll groove that is upbeat and energising, this is blended with a grungy style which results in a sound similar to Pearl Jam or Soundgarden. Now this might be because Lewis' vocals seem to be heavily influenced by the likes of Eddie Vedder which really does it for me! If you weren't already sold by the Attic Theory hype, I reckon you'll be completely on board by the time you get to the end of this track!
One of my personal favourite tracks has to be 'My Own Design' as things get really passionate here. It's a song of boiled over frustrations at being trapped in a prison of your own design that has resulted in complete mental exhaustion. There's some serious Soundgarden vibes to this track too, specifically the main riff invokes strong memories of 'Spoonman'. I would be very surprised if this doesn't end up with plenty of air time as it has all the right elements for a strong radio track.
While listening to 'The Sign of an Active Mind' it's quite easy to forget that this is a debut EP! I think the combined experience of all of the members has given them a very strong head-start to produce something pretty special. It feels like a throwback to some of the greats of the 90s/00s grunge movement but manages to pay homage to the classic rock era at the same time. If grunge was your thing back then, you'll feel like the movement never ended as Attic Theory have slipped right in to fill that void in your life. The hype ahead of this release has been pretty well-founded and I would say that they are certainly a band to keep an eye on moving forward as we can expect great things if they continue to write music like 'The Sign of an Active Mind'.
'The Sign of an Active Mind' is released next Friday (27 November). You can get your copy, and loads of other Attic Theory goodies, HERE.
All content © Über Rock. Not to be reproduced in part or in whole without the express written permission of Über Rock.