By DJ Monk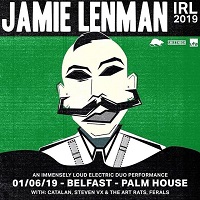 It's the first day of June, supposedly itself the start of the summer season, and, typically, it's freezing cold. But things are certain to hot up as the evening goes on, as Jamie Lenman is making one of his rare (for reasons he explains during his set) sojourns across the Irish Sea for his first ever headlining shows on the Emerald Isle. And it was definitely set to be a special occasion, as we had the added bonus of the former Reuben frontman being re-united with an old friend… but, we'll get to that in a few paragraphs time…
First up, of course, was the small matter of the supporting cast for this evening's proceedings, and first up we had Ferals, who deliver taut alt-noise tinged post-rock with a solid bottom end. The most impressive aspect of their performance is that of drummer Dan (to whom Lenman later pays particular tribute), which is precise and acidic. They do waste a little too much time retuning between songs, leaving disjointed silences therein, and their final song reminds of 'Boy'-era U2. Overall, not my pint of cider (the bar, in fact, have just run out of same) but they get a good reaction from the tiny band of early comers gathered in the centre of the room.
Ferals play Fibber Magee's in Dublin on Friday 12 July.
Next up are Steven VX And The Art Rats, another trio, this time fronted by the co-promoter of tonight's gig, Steven Donnelly. They blast through a 30-minute set of noisome post-punk with plenty of band, clatter and fizz.  The rhythm section is tighter than the rivets on the Titanic, the thick, rumbling bass lines as solid as a block of reinforced concrete, while Donnelly's guitar licks are alternately prototypal and psyched out, as he loses himself in the energy of the performance, the vocals almost an after-thought as he uses his voice as a fourth instrument. A good solid performance with my only complaint is that Donnelly needs to use the mic when talking to the audience between songs, as it is difficult to hear him when you're some distance from the stage.
Next up is a new name, on me at least, but the presence of a familiar face explains their comparatively high billing, as Catalan is the latest project from Ewen Friers, one half of north coast noiseniks Axis Of. The guitarist's experience shows from the off, as he manages to cajol the audience – whose numbers are starting to grow now that a certain football match is out of the way – into moving forward for the first time, so that everyone can "share the energy inside us". Unfortunately, despite doing their best to win me over with the use of a cowbell, particularly on the intro to the second song, there is very little energy emanating from the stage and while the crowd to move closer to same most stand with their hands in their jeans pockets and the applause at the end of each song is polite at best. They do ratchet things up a notch during their final two songs, but by then it's a case of too little too late.
Catalan curate the Coaster 2 festival in Portrush on Saturday 27 July.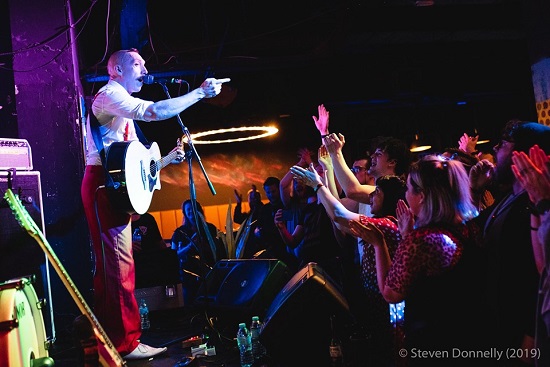 After a half-hour break – well, they did have to completely change drum kits, so the advertised 15-minute turnaround was a tad ambitious – Jamie Lenman practically bounds onto the tiny stage, preceded by his former Reuben bandmate Guy Davis taking up station behind the kit: Lenman later reveals that this is the first time they have played together in 12 years. And, despite the still disappointingly small crowd, the place definitely comes to life as the man himself straps on his guitar and launches into opener 'Hell In A Fast Car': however, what the crowd lacks in numbers it certainly makes up for in both enthusiasm and knowledge, as there is plenty of singing along right from the off, as Lenman plummets through his own extensive back catalogue, with a few Reuben classics thrown in for good measure, alongside new single 'Killer' (from his forthcoming new album, 'Shuffle', which is due to drop next month).
Between songs, Lenman interacts with his audience with both humour and lucidity: he talks about his previous visit to Belfast (supporting Biffy Clyro last October) and the reason for his protracted absence from these shores – "I'm afraid of the boat, but the doctor gave me a shit load of drugs and so here I am!" – as well as interacting on a one to one basis with some of the audience members (well, it's quite easy to do so in such intimate surroundings).
Forty minutes into the set, Davis is sent to the back as Lenman changes the mood, but switching to acoustic guitar for a quintet of unplugged songs, including one of my personal set highlights, 'It's Hard To Be A Gentleman', which understandably produces the biggest singalong of the evening, easily seeing off that previously evoked by 'All England Is A City' (which went down surprisingly well with the Belfast crowd). A final flurry of fully-electrified tunes, including the magnificent 'Every Time A Teenager Listens To Drum And Bass A Rock Star Dies' brings this 80+ minutes of raw, visceral punk 'n' roll, delivered with shovel loads of positive attitude, to a conclusion, with repeated calls for an encore over-ruled by the curfew, which had been busted through quite some time earlier.
All in all, a curate's egg of an evening, interesting in its own way and highlighted by an excellent headline performance from one of the true masters of his craft.
Jamie Lenman plays the Shangri-La Scum stage (with Haggard Cat, Slaves To Sirens and Eyre LLew) at Glastonbury on Sunday 30 June. He will then set out on the 'Road To Lenmania', with two special mini-festival shows at St Luke's in Glasgow on Friday 5 July and the O2 Academy Islington on Sunday 7 July, before headlining his own 'Lenmania' takeover stage at the 2000 Trees festival on Thursday 11 July.
Jamie Lenman's 'Shuffle' is released via Big Scary Monsters on 5 July, and is available forpre-order HERE.
PHOTO CREDIT: Live photo courtesy of Steven Donnelly/Rackus Rattus Promo Co.
All content © Über Rock. Not to be reproduced in part or in whole without the express written permission of Über Rock.