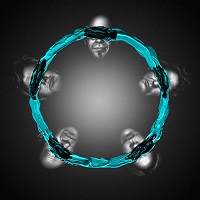 This is the second album from Norway's Infringement, and it certainly touches all the prog norms, from containing just four songs across its 41 minutes, to the aural soundscapes it presents.
Opener 'Disorder' initially sounds like it would belong on a classic horror movie soundtrack (not any of that modern slasher crap), before plunging very much into Genesis/Pink Floyd/Yes territory in terms of its use of layering, all topped off with a very Dunnery/Fish/Gabriel-esque vocal. Like its predecessor, 2017's 'Transition', 'Alienism' is a concept album, this time set around a psychiatric hospital, telling the story through the diaries of The Commissioner Of Lunacy.
Again, it doesn't stray too far from the prog norm, flowing with a easy grace. Augmented by massive orchestrations, especially on epic closer 'Delirium', the performances are exemplary, while thoughts of classic second wave of prog acts such as IQ, It Bites, Marillion and Pendragon are never too far from the front of your mind.
A definite "must buy" for all progheads.
'Alienism' is out now. You can get your copy HERE.
www.facebook.com/infringementband
All content © Über Rock. Not to be reproduced in part or in whole without the express written permission of Über Rock.