By Bona Pjarren and Gordon Goligher
It's the first weekend in October, and that can mean only one thing… yes, we're back at our home-from-home for two more days of Hard Rock Hell action. And after all the doomers, stoners, proggies and goths have fallen silent, it's time for the punks, both old and new school, to have their moment in the spotlight.
This time around, we're taking a slightly different tack, in that we're reviewing the action on each of the two stages separately, rather than jumping between the two rooms, so let's get stuck in with what went down in the smaller of them, shall we?
Kicking off the weekend action upstairs were Barking Poets, a four-piece London band. It was a privilege to meet Connor, their soft-spoken Irish drummer, who laid skins down perfectly through the set with a guitarist from up north. It all worked very well. The music had subtle hints of prog/folk connections: well, what do you expect from an Irish vocalist? Areat melodic punk band.
Litterbug evolved from alt indie to punk rock and say of themselves: that "we've been described as a '77 style band, but we really just make it up as we go along". The Blackpool-based band possess the tallest bassist in that town, and possibly the whole of punk rock! High speed drums gave it the traditional punk feel with no break for the first three songs. You've just got to pogo to it
Potential Victims also hail from the northwest. Originally formed back in the 1980s, they got back together in 2010, with four of the original members – Jack on vocals, Spibey/Martin on guitars and bassist Toz – joined by Moz on drums. Their sound is heavily influenced by their heroes, Motörhead, playing harmonious, well-crafted punk, with some spoken lyrics and their metal backing a joy. The crowd loved them. Ta for the CD, lads: I'm still playing it.
Mayhem Freak are a Burnley-based punk metal band, somewhere between Motörhead, The Wildhearts and Killing Joke. They have a pulsing, slow thrash style for the first half of their set, which sped up for a much more energetic final half, coupled with explosive vocals provided by a lady called Claire.
The Meffs are a Colchester-based duo. Lily on guitar and vocals delivers a political message that is all well timed, coupled with great musical punk, with a Madness feel provided by Lewis` drum skins. They accomplish a big sound for a two-piece, with Lily using both a bass and a guitar amp to get this fuller sound. There is lots of audience participation courtesy of Lily.
Even before Barking Poets kicked into gear on the second stage, the action on the main one was already well underway, courtesy of Blackburn's Medusa. They had lots of energy, although Julian Molinero probably could have done with warming up his vocals beforehand: they did get better as their set went on. Apart from that Medusa are a reasonable opening band ability wise. I personally would have categorized them as grunge/metal rather than Punk, particularly when Julian launched into a passable tapped lead intro for one of their songs midset. And, indeed, this didn't go down well with certain elements in the crowd. Overall, though, a descent opening band that might have been a more comfortable fit on a metal/rock line up.
Shropshire trio MC16 are a band with a heart, their 'Sleeping On Cardboard' single, released 2019, raised money for veterans suffering from PTSD. MC16 believe music should challenge, confront and question as well as entertain – capturing the spirit of true punk rock music. 'Outvoted By Robots', the trio's debut EP captures all of the above in the four songs contained within. MC16 have a full-on punk sound that assaults the audience's senses. They don't need to be polished; they just do what they do incredibly well. With driving drumbeats and pounding bass riffs this is what Punk was originally all about. Some of the vocals were a bit reminiscent of Talking Heads while at other times they are delivered in a more traditional punk style. In conclusion musically, MC16 are a short sharp shock of classic punk rock – a whirlwind of snarl and bite, mixed with a ragged melody and streetwise energies.
Hung Like Hanratty first raised their middle fingers to the world in 2011. The band name is inspired by James Hanratty also known as the A6 Murderer, who was hanged in the UK in 1962 but whose guilt has since been questioned… the councils in Bristol and Cardiff have slapped a ban on them because of their song 'Danny Is A Tranny': someone from the LGBTQ movement lobbied to ban HLH playing gigs in the two cities, and the councils backed her. But there's a twist in the tale, as the 'Danny' from the song is a friend of the band and a tranny – and even wrote the lyrics! They explode onto the stage, full of attitude and have the crowd singing along on the first number. With punk's trademark frantic pace there is still room for some nice melodic riffs. Hung Like Hanratty are a great fun band with serious social messages. A band that are well worth catching live.
With catchy fast paced songs, Belfast veterans The Outcasts are next to tear up the stage. They rattle through 'Stay Young', 'Frustration', 'Just Another Teenage Rebel', which had a nice key change, and 'I Love You For Never'. There were some very interesting grooves going on. They left crowd favourites 'The Pressure's On' and' You're A Disease' for the end of their set. All in all, a solid performance.
The Members offer something a bit different from the standard punk fare displayed so far. They're not afraid to mix it up a bit with something down tempo, such as 'New English Blues'. They are also perhaps one of the more melodic bands to have graced the main stage so far. With elements of rock, blues, reggae and ska, they still manage to keep a punk edge. They have a plethora of nicely written songs in their repertoire' such as 'Chelsea Nightclub', 'Working Girl' and the crowd pleasing 'I Ain't Going To Be Your Bitch No More'. They finish with their big hit, 'Sound Of The Suburbs': well, it had to be, didn't it?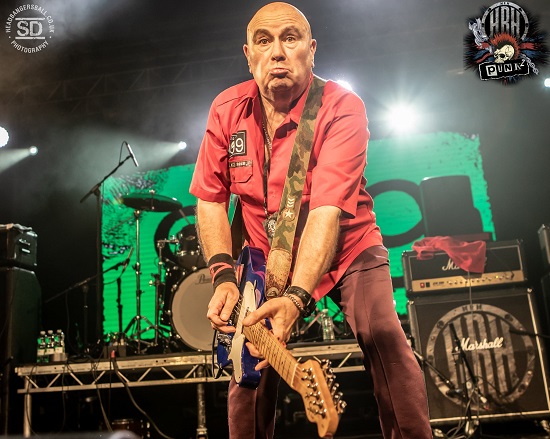 London legends 999 have been described as "one of the longest-lived groups of the punk era", with only two permanent changes to their original 1976 line-up – and you could immediately get that from their stage performance, in that they are slick and practised at doing what they do. They have a good mix of styles blended into the overt punkiness. 'I Don't want To Know' and 'Homicide' both have a blues rock 'n' roll feel to them and are included in their set alongside more traditional old school numbers like 'Nasty, Nasty'. They teased that they were going to end on 'My Street Stinks' but when the crowd reacted they did come back for an encore to play their first recorded single, 'I'm Alive', originally released back in 1977. A good solid set from a good solid band.
Like their predecessors on the main stage, UK Subs were among the earliest in the first wave of English punk rock bands, as well as one of the first hardcore punk bands. Today, they're still full of attitude when delivering their trademark style of punk. Fast and furious there is no let up as they rip into one song after another. There are some big heavy riffs in there and it is not long before a major mosh pit is formed by the audience. Each song is short and to the point, the lack of breathing space just drives the spectators into a dancing frenzy. UK Subs leave you in no doubt that they are a high octane, well-oiled rock and roll machine. The drummer had to be excellent to drive through the frantic pace of each number and his performance is indeed top drawer. Performing songs such as 'Rat Race', 'Barbie's Dead', 'Warhead', 'Stranglehold', 'CID' and 'Keep On Running' they left the audience screaming for more. But, unfortunately, to quote a certain 1970s TV programme, it was time for bed to recharge our batteries for more of the same just a few hours later…
PHOTO CREDIT: All photos © Simon Dunkerley/Hard Rock Hell. Copyright remains with the photographer.
HRH Punk will return to the O2 Academy in Sheffield over the weekend of 1/2 October 2022.
All content © Über Rock. Not to be reproduced in part or in whole without the express written permission of Über Rock.