These are both bands I like a lot and having covered the Caerphilly Castle gig the last time, the opportunity to see them in one of the best acoustically prepared venues in Wales was always going to be a given.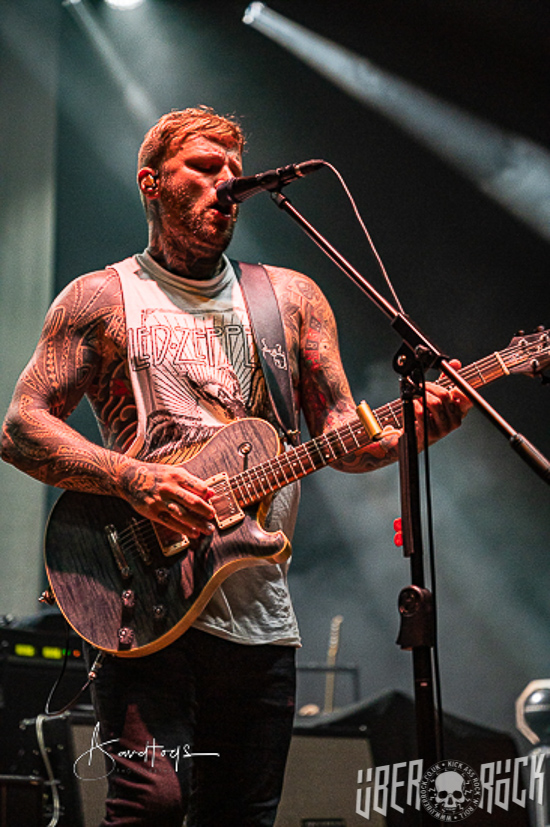 The crowd were ready for Kris Barras to come on the stage with a large number in their seats ready (which is always encouraging for a support act). Kicking off with the latest track 'Dead Horses' led to a good reception from the crowd. Whilst it's a good track its not quite as readily impressive as some of his tracks from the previous albums. However, this was soon remedied by 'Rock N Roll Running Through My Veins' and 'Ignite', both of which are crowd favourites at any KB gig. Commentary on the fact that he wasn't sure if the tour was going ahead until he saw Black Stone Cherry getting on a 'plane raised a few chuckles front the crowd.
'What You Get' was rapidly followed by 'Who Needs Enemies' and My Parade', the latter a real crowd pleaser and opportunity for the crowd to join in with the hook. A cover of the Alabama State Troopers' 'Going Down' was a bit unusual as he has more than enough material of his own, but it did give him the opportunity to show a different guitar style during the solo. 'These Voices' is followed by another crowd pleaser 'Hail Mary'. All in all, another great set from Kris and the band. Roll on the headline tour in March… looks like another excuse for a trip (as if you need one – Ed) to the Tramsheds in Cardiff.
A four-track build-up to Black Stone Cherry included 'Tribute' (at the end of this would have been a good point for the band to come on), 'Run To The Hills', 'I Believe In A Thing Called Love' and most of 'Bohemian Rhapsody' (why would you cut this short?!), which had the crowd happily singing along.  Then Ben, Chris and John Fred were joined on stage by Steve Jewell of Otis in replacement for Jon Lawhon. They are big boots to fill as both him and Ben Wells were always very active on stage.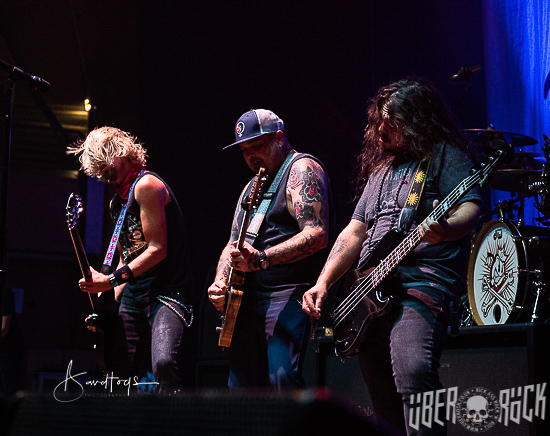 The best issue for me was that the set lists had been kicking around on the web, which meant that I knew many of the old favourites were going to get a good airing for the first time in a few years. Whilst the later albums are firmly esconced in my collection, the likes of 'Folklore and Superstition' and 'Between The Devil And The Deep Blue Sea' are regulars on trips in the car. It is also good to hear the heavier stuff like 'Lonely Train' and 'Yeah Man' get played.
Kicking off with 'Me and Mary Jane' is a good way to go and Jewell is obviously a bit more animated in a supporting role than he was with Otis in Caerphilly. Whilst Chris regularly talked to the crowd it was nice to find Ben taking a bit more of this role on, especially in encouraging everyone to get on their feet "cos it's a Black Stone Cherry gig and we're here to enjoy it". It was obvious the guys are enjoying the tour even in the absence of their long-time band mate and I am sure that everyone wishes him well.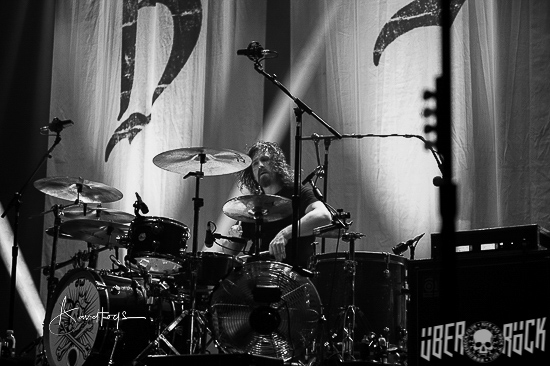 A bit of banter between Chris and Ben about who are the most intelligent people in the audience led to the conclusion that "it's cheaper to drink Alone". A chance to take it down a bit after all that energy led into 'Hell & High Water' and then some more banter before 'Soul Creek' and 'Devil's Queen' really wound it back up again. John Fred Young is definitely one of the hardest hitting drummers around and he sits on top of the stool like a windmill in a hurricane with his head, hair and arms flying around the kit in a blur in a drum solo.
After this point to give him a bit of a breather (and he deserved it) Chris came back on to talk about the time they played the Motorpoint just after he had lost his grandfather and sang 'Things My Father Said' but was carried along by the crowd. Unfortunately the death of his father earlier this year led to the same issue occurring again in Cardiff; however, it was obvious that this song touched many others in the audience who have lost loved ones during the last 18 months, so the crowd really played their part. However, that was the last of the emotion for a while with 'In Love With The Pain' rattling into 'Blind Man', probably one of the catchiest "anthems" in 'Blame It On The Boom Boom', and 'White Trash Millionaire' and 'Lonely Train' wrapped up the main show. With an encore of 'Peace Is Free', I got the feeling that many of these songs are heading for album plays and fewer live outings in the future, but I really hope I am wrong.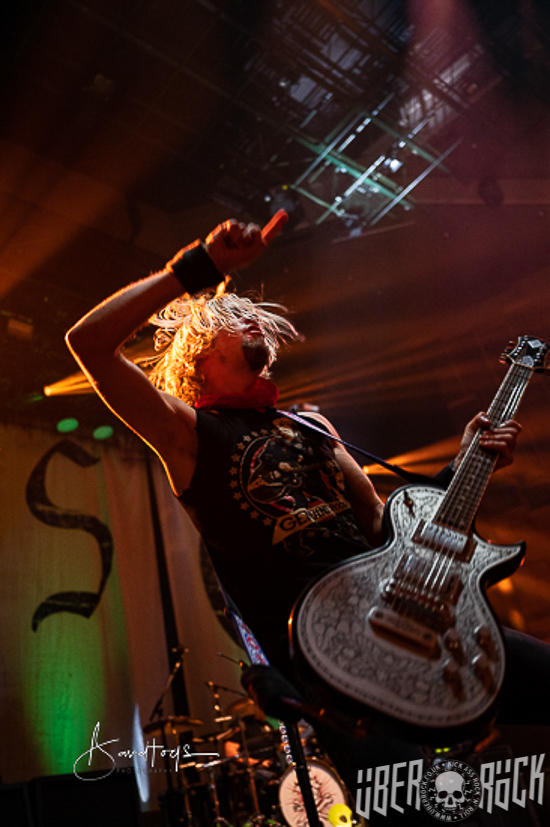 An evening with Black Stone Cherry always provides a moment to savour and I hope there are many more.